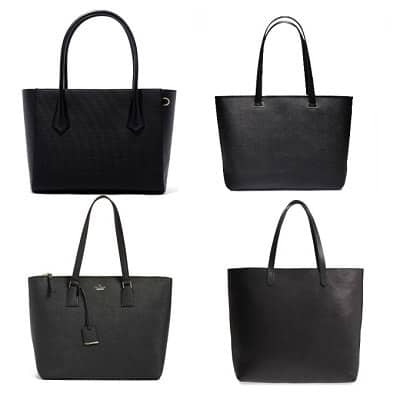 Sure, we all know what wardrobe essentials for work professional women are supposed to have in their closets, but if you're buying one for the first time or replacing one you've worn into the ground, it can be a pain to find exactly the right incarnation in stores. In "The Hunt," we search the stores for a basic item that every woman should have.
What do you think are the best work bags, readers? How does your answer change if you're looking for a great tote bag for an interview, your first day of work, business travel, and beyond? Who do you think makes for the best tote bags for work, interviews, and beyond? For today's roundup of the best work bags I'm mostly featuring fun, happy prints and colors, but if you're looking for a neutral, basic bag we've rounded up some great Hall of Famers below as well. As I've noted before, I think the best professional tote bags in general may be leather (more polished), a room for a laptop or possibly a legal-size notebook, and have intelligent details like feet, keyfob chains, interior pockets, and more. By contrast, whenever looking for a great tote bag for an interview (especially a day of interviews like with OCI) I've appreciated tote bags nylon (lightweight) but structured (non-floppy, stand up by themselves on the floor), large enough for a folder (for copies of your resume), and are mostly a solid color without brash logos. Some of the most neutral, timeless options if you're looking for the best work bags include these, pictured below: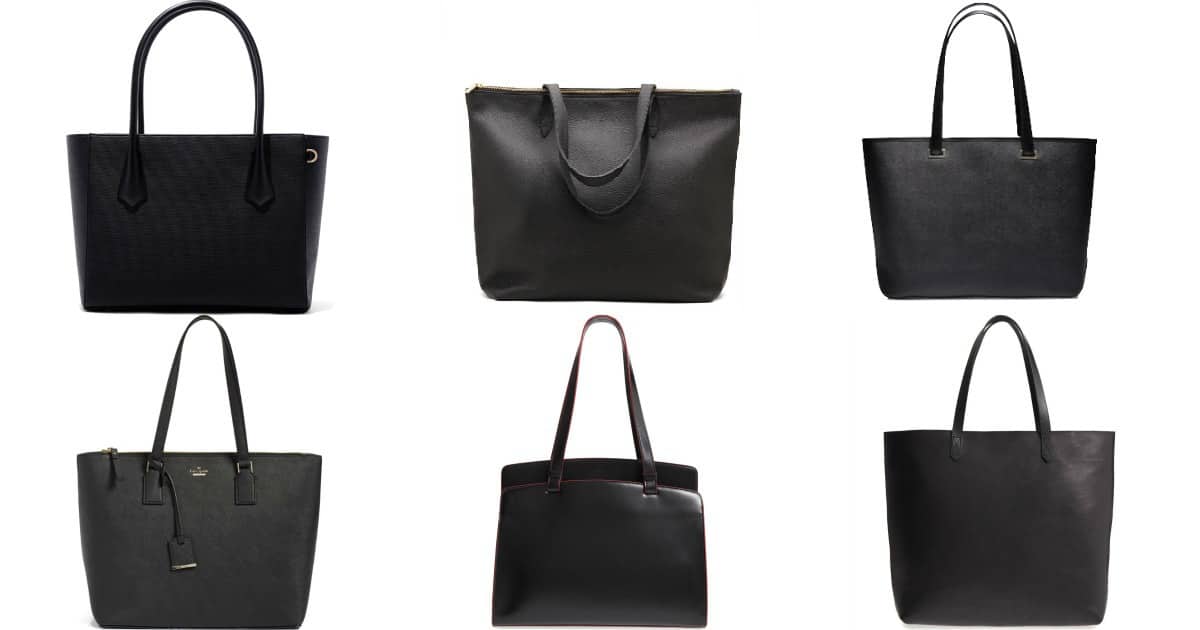 Above are some of the best selling work totes of all time are linked to in our Hall of Fame styles (more below) — here are a few of those, pictured, ranging from $168 to $398: one / two / three // four / five / six
(Curious for older versions of this post? Here they are from 2017, 2016, 2014, 2013, 2012, 2011, and 2010).
On to some of the best work bags that we're seeing on the market today:
"New" Target brand "A New Day" has a ton of super affordable options for tote bags, including a nice basic nylon tote. (I say "new" because a lot of people think the vibe is verrrry similar to previous Target brand Merona, which they've now phased out.) I think this laser-cut tote is very pretty, and I like the removable cloth liner for easy washing. It comes in blue, pink, white and black for $29.99 at Target.
If you were a huge fan of the Fossil Sydney shopper that was around for years (and years, and years…) note that the bag Fiona is "updating" the older version. Amazon seems to have the most color options right now, all marked $138-$178 and eligible for Prime Wardrobe (here's Kate's review of Amazon Prime Wardrobe if you missed it).
Tory Burch's lightweight Ella tote has been a Hall of Famer for years, so I was kind of psyched to see it come in such a fun, Mondrian-esque pattern. Obviously this kind of look is not for everyone (and probably not for anything but creative interviews) but if you feel like your wardrobe is nothing but a sea of black, gray, and light blue, this could be a really fun, easy way to add some personality to your commute while keeping the functionality you love. It's $198 (in the largest version) at Nordstrom, also available in black, navy, and beige. Note that if you were eyeing Tory Burch's leather option, that seems to be on its way out — the T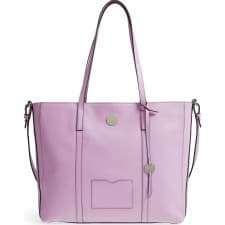 Readers love the brand LODIS Los Angeles for a reason — their bags are made with working women in mind. Most of their bags offer RFID features, as well as intelligent details like feet, interior pockets, exterior slip pockets for your ID card or whatnot, and all in their durable leather. I mostly think of the brand as doing super neutral colors like black and red, so it's fun to see the brand expanding to more fun colors like the lavender pictured here. The pictured bag also comes in black, orange, and yellow.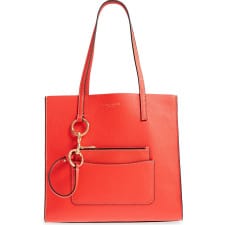 If you're looking for a reasonable sort of splurge, note that Marc Jacobs has a number of very popular tote bags right now, including the tote pictured, its slightly larger sister, and the Editor tote. The happy bright color of this one was calling to me, though, and I like the intersection of form and function with the key ring/pocket on the front of the bag. (The larger version has a more plain front.) The pictured bag is $425.
Like this feature? Check out other recent installments!
This post contains affiliate links and Corporette® may earn commissions for purchases made through links in this post. For more details see here. Thank you so much for your support!
Social media picture credit: Shutterstock / Superlime.