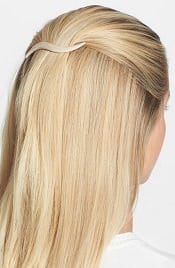 What's the best way to style your long hair for a job interview if you're a woman in your early 20s? Could wearing it down make you look too young? Reader D wonders:
How should a 20-year-old style her long, straight hair for the interview process for a management consulting job? Is wearing it down and straight too young/collegiate? Is styling it with a curling iron too beauty-pageant/date-y? Just how conservative is the corporate culture of the big three consulting firms? Must hair be pulled back? Interview wardrobe all taken care of, and nails are neat and well-groomed, but what about long hair?
We've frequently discussed workplace hair, from whether long hair makes you look young, to whether ponytails at the office are acceptable, to what easy, maintainable hair looks like, to work-appropriate up-dos. We've also talked about what your hair says about you at work.
For this post I was going to find a bunch of YouTube tutorials and pictures of women with interview-appropriate updos, half-updos, and long hair. But… here's the thing: so many of those look totally pageant-y, and on a young woman it's going to look even more like you're playing dress up. So here's my answer: for an interview, your hair should be neat, recently trimmed, and not something you play with. Ultimately, the hairstyle should be forgettable. I mean that in two ways: first, it should be forgettable for you — once you do your hair and leave your house, you should be able to forget your hair and focus 100% on the interview(s). No touching, no smoothing, no combing — no thoughts of "ow, these bobbypins are sucking my will to live and when.can.I.get.them.out.please.God.is.it.now." (Ahem. Personally I hate bobbypins.) Secondly, though, your hair should really be forgettable for your interviewer as well, because you want them to notice your resume and your qualifications and your smarts — not your hair.
This is going to look a bit different for every person — just reading through the comments on our last ponytail post some women noted that their hair felt "scraggly" if it was down, others felt like it looked "scraped back" in a ponytail. So, for my $.02, here's my list of options for how to wear your hair for interviews:
Hair, down, is fine. If you find yourself touching your hair, smoothing it, re-parting it, whatever — then think about pulling it back. If your hair is super voluminous and it takes a bit of effort to maintain a neat look throughout the day, I'd suggest just pulling it back.
A ponytail is fine — but it can't look pageant or cheerleader at all. I'd suggest you think LOW ponytail, if only because I think people associate higher ponytails with cheerleaders — plus I often find them uncomfortable to wear for long days. I'd suggest taking the time to find an easy, comfortable way to make it look a SMIDGE more polished with one or more of the following ideas:

wrapping a piece of hair around the ponytail to cover the elastic
putting a sedate, professional hair accessory to hide the elastic (or using an elastic with a barrette or cuff built in) — I think the look above looks great because the barrette nearly matches her hair, and the hair looks very neat. The barrette pictured is $60 — Nordstrom has a ton of beautiful ones; I always think of J.Crew for this also — but your drugstore is fine as well. Look for ones that match your hair, don't sparkle, and are comfortable to wear. Some quality brands worth the money include L. Erickson, Ficcare, and France Lux.
making a hole in your hair just above the elastic and then pulling your ponytail through that hole — sort of like the beginning of a Gibson roll
Twisting the hair around your face to give it a bit of volume before pulling it back, as illustrated in the YouTube video I linked to in our last ponytail post
Adding a bit of height on top of your head, either by teasing it or using a product like a BumpIt (or Jean at ExtraPetite's beloved velcro bump) — but be careful here; it's very easy to suddenly feel like you've got Sarah Palin hair.

Long hair, pulled into a half up-do so it's out of your face — see notes above.
An up-do — if this is the easiest for you to do, that's fine too. Just make it neat, comfortable to wear, and not too high — the fashion blogger's topknot or a messy bun (whether on purpose or not) is not likely to win you any fans. Note that readers have loved Goody Spin Pins in the past (particularly for curly hair).
2020 Update: Here are Kat's favorite hair products of the moment…

Ladies, what are your thoughts — particularly those of you who regularly interview women in their early 20s? Have you noticed someone's interview hair, in either a good way or a bad way? How do YOU style your hair for interviews? How would you advise your 20-year-old self to style your hair?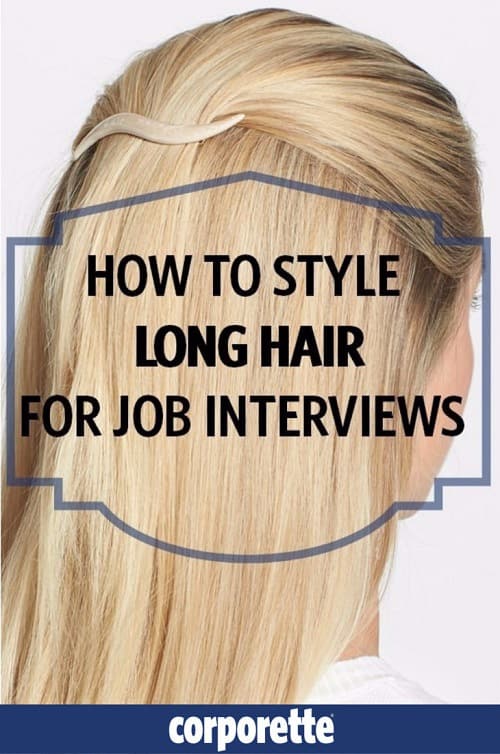 —————
N.B. PLEASE KEEP YOUR COMMENTS ON TOPIC; threadjacks will be deleted at our sole discretion and convenience. These substantive posts are intended to be a source of community comment on a particular topic, which readers can browse through without having to sift out a lot of unrelated comments. And so, although of course I highly value all comments by my readers, I'm going ask you to please respect some boundaries on substantive posts like this one. Thank you for your understanding!