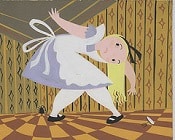 We're curious what the readers have to say about today's reader mail:
This is embarrassing, but I've been fighting a losing battle with my weight for a while now. Before the holidays, I had about a week and a half"s worth of clothes that still fit. After the holidays I'm now down to a few pairs of pants and a very stretchy skirt. I wore a summer dress (t-shirt material!) the other day because it was the only thing that fit and was clean!! Should I just give up and go buy new clothes? I don't have any major meetings or suit-wearing things coming up, and the only person at work who sees me on a daily basis is my secretary.
Eeeesh, we hear you, sister — the holidays were not kind to us either. For our $.02, you're treading on thin water with such a limited wardrobe — even if no one sees you regularly, we feel like people will start to notice. Besides, it's always more professional (and flattering!) to wear clothes that fit, rather than stuff yourself into clothes that are too small. But in terms of whether you have to give up the ghost and go buy new clothes… our answer to your question depends on a number of factors.
Assess how fast it will take you to lose the holiday weight. (To us, the holiday weight and the pre-holiday weight are different animals.) What is your current schedule like? Have your eating and exercise habits returned to normal (or have you even stepped it up a notch?)  It's been two weeks since New Year's Eve — have you lost weight since then?
How much effort does it take you to fit back into your old clothes? For example, if you avoid sodium-filled foods and drink water with lemon (helps with bloating) for a day, can you fit back into your pre-holiday pants? What effect do products like Spanx have on your wardrobe — can you fit back into smaller clothes by wearing them, even if you're uncomfortable for the day?
Finally, what's your budget like? If your bra no longer fits (and an extender doesn't help), you should put some of the money towards buying a new bra. If your Spanx collection is limited but helps you fit into your clothes, put the money into those types of things. Beyond that — do you have the basic things to wear? We'd list that as black trousers, one simple pair of colored trousers (gray? brown?), a black skirt, and a black blazer. If you don't have those things, troll the sales or hit the lower-cost stores like Old Navy, Limited, or Ann Taylor Loft. Beyond that, we might advise you to buy empire-waisted dresses that fit your bust and arms. (The bonus to these is that you can wear them both when you're smaller and larger.)
The other thing we're going to advise is to set a time limit. You say you have no major meetings or suit-worthy events coming up — but it will not always be that way. Figure out how much weight you've gained (yes, get on the scale), pick a sensible diet and exercise program, and give yourself 1.5 weeks to lose each pound. At the end of the time, reassess. We would say that if you haven't made any progress, just bite the bullet and buy some new clothes. If you can fit into your pre-holiday clothes (and feel like you're on a losing streak) then hold firm, and continue to lose weight until your old wardrobe fits.
There are no right answers here, and it's a difficult question. Readers, what are your rules of thumb for buying larger sizes? Do you do anything like give away clothes you haven't fit into for a year or more? What do you think the reader should do?