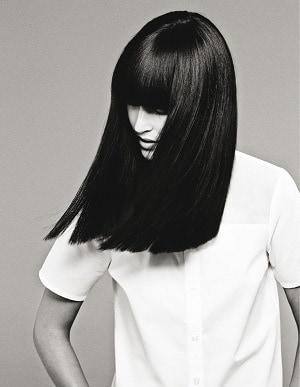 Disclosure: This post is sponsored by Sassoon, but written by your friendly local blogger, Kat Griffin.
I've written before about my love of blow-outs (including how to make a blow-out last for multiple days!), but here's what I don't love about blow-outs: the Question.  You know the one: "How do you want your hair blown out?"
"Um…. the normal way.  With a brush and blowdryer and stuff."  (I say this because I once asked for a blowout and got a flat-iron instead because that was all they offered, and I was too crunched for time to go elsewhere.)
"Yes, but straight?  Wavy? Glamorous?"
"Ummmm… straight, I guess."
I always feel a bit dumb for not knowing the answer to this question, and I suppose if I started a Pinterest board, or ripped magazine pages out, I could go to the salon and confidently say, "Give me X."  But I somehow always forget that this is an issue until I'm in the seat.
So I was THRILLED when I heard about Sassoon's new service: a blow and style menu that not only names popular styles and makes it easier to differentiate among them, it puts even more options right in my hands, right when I need them: when I'm at the salon.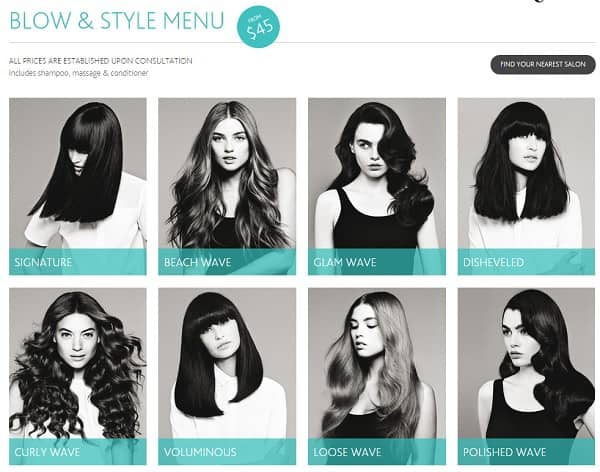 Left to my own devices — even if I knew I wanted, say, a Polished Wave, any attempts to describe that verbally to my stylist (sans picture) would SO not work — I probably wouldn't even end up with a Glam Wave or a Loose Wave, just some vaguely non-straight concoction.  I feel like the pictures are such a more helpful device — at least to start the conversation! — in a productive manner with your stylist. For my $.02, for work I think the Signature, Voluminous, or Loose Wave looks the most professional (or the Sleek Pony style, below), but I might try to get a Beach Wave on Saturday for a party and would still be fine with my less-wavy-but-still-blown-out hair for Monday work.  (If you want a style to last a few days, be sure to talk about it with your stylist — the more products he or she uses, the more quickly your hair is going to need to be washed. Also, some of the curly looks may transition better to second- and third-day looks — so talk it out with your stylist.) Oooh: and I just realized they have how-to videos for a lot of the styles if you want to try to get them yourself — here's their Sassoon Signature look and their Glam Wave.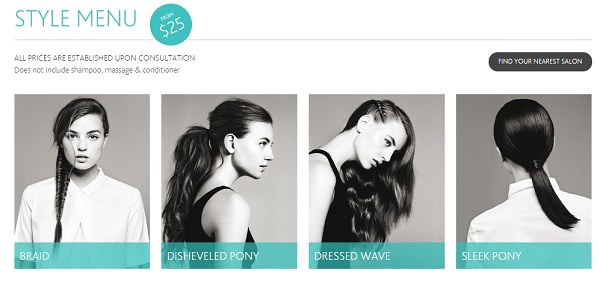 The style menu is pretty great too — these are all beyond my own abilities, and I probably wouldn't even think of them if I were going to a more casual event (e.g., a child's birthday party) where I would want my hair to look Better, but without being super obvious about it.
I got the chance to try the Sassoon experience recently (during New York Fashion Week) and tried the Beach Waves since it was a Saturday — what are your thoughts, ladies?  (Also, while I'm still on the hunt for my everyday red, I took a chance and wore a bright red lip to the event.  That's a layering of Nars Cruella and Hourglass Icon, if you're curious.)  Many thanks to my stylist Kryssy Wood, who you can find in the NYC location uptown, at 56th and 5th.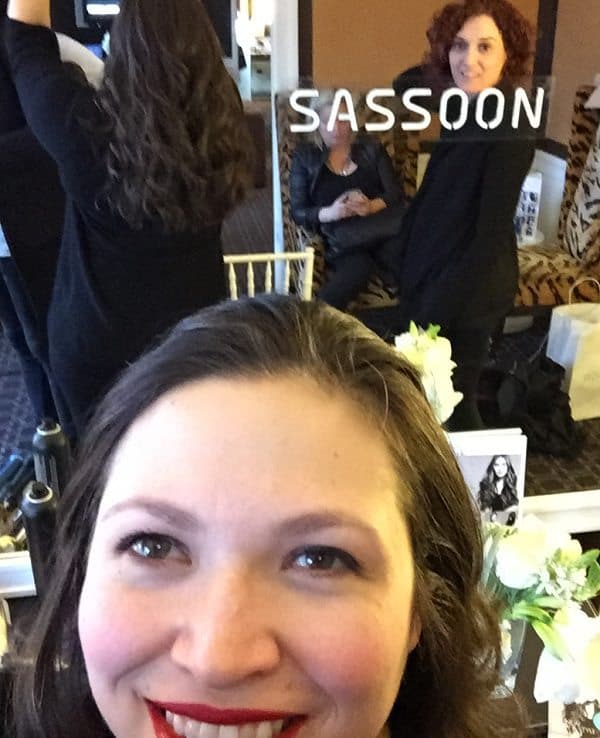 Ladies, what kind of blowouts do you like to get?  Which would be your first pick off the Sassoon Blow and Style menu? 
 The Sassoon Blow and Style experience can be found in the following cities:  Atlanta, Beverly Hills, Boston, Chicago, Costa Mesa, Miami, New York (downtown), New York (uptown), Northbrook, San Francisco, Scottsdale, and Seattle.   Prices start at only $25 (for a style) or from $45 for a blow and style, which is far more affordable than I would normally think for a lux brand like a Sassoon salon.