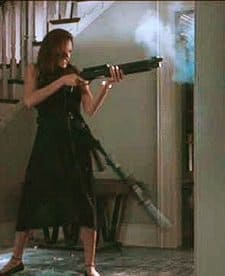 2017 Update: You might want to check out our more recent post on sexual harassment and the #metoo movement. 
WOW. Staci Zaretsky over at
Above the Law
has collected some amazing sexual harassment at work stories from women lawyers, and the collection is too… revolting, I guess?… to not discuss over here. (My first reaction to the post was of a mental roundhouse kick, but the fight scene from
Mr. and Mrs. Smith
will have to do to illustrate the post.) What stories do you care to share, ladies? Here's one story of the several they share:
I wore dark purple suede heels to court. Opposing counsel asked, "Where are you dancing now?" in open court. Later that morning, he came to my office with cash in his mouth.
PURPLE HEELS, LADIES. Purple heels.
 For my $.02, I remember recognizing that people were being inappropriate around me in my legal eagle days, also, I suppose — older male lawyers I worked with would occasionally make negative comments about some of the secretaries based on how they dressed (usually implying something regarding clubbing), and one of the partners I worked with said something once about my "long, flowing hair," like I was a princess or something. (I was growing it out for my wedding!)  But mostly I remember there being an invisible thin line that seemed to be present in every interaction I had — that was definitely not there for my male coworkers, who were free to drink, joke, have meals, and share personal stories with partners.
Vivia Chen at the Careerist
had an interesting post a year or two ago where she scoffed at the perception that older male lawyers couldn't take female associates out for a meal, and in response got a ton of emails from older male readers saying YES, the fear of being accused of sexual harassment absolutely did limit their interactions with younger female attorneys. In some ways that's worse, because sponsorship and mentorship are essential to move up the career ladder.
Above the Law is suggesting women lawyers band together to speak up and say something — do you know who you would speak to in your workplace if something came up? (Or, in the above example where it was opposing counsel — do you know who would you speak to regarding that kind of behavior?) Do you feel like there would be retribution — or at least judgement, such as "she can't take a joke" — for speaking up?) How do you think workplaces should walk the line between discouraging sexist behavior and encouraging senior workers to sponsor more junior workers, regardless of gender?
Psst: we've also talked about what to do when a client hits on you, how to discourage a flirtatious boss, how to deal with sexist coworkers, and how to network with older men. 
We are a participant in the Amazon Services LLC Associates Program, an affiliate advertising program designed to provide a means for us to earn fees by linking to Amazon.com and affiliated sites.