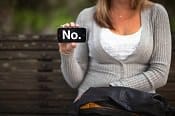 What should you do when a flirtatious colleague — one who's kind of your boss — is hitting on you at work? Reader J wonders…
I am a (female) BigLaw associate, who has become the focus of flirtatious attention from a (male) partner, who (1) works in another, but near-ish office, (2) is on the Executive Committee, and (3) has quite a reputation for hitting on firm employees (attorneys and non-attorneys alike). My friends/colleagues' advice has generally boiled down to: Don't outright reject him, stroke his ego, etc., but continue to deflect invitations for dinner and drinks. A few have suggested telling him I am not comfortable dating someone at work (which is true). What is your and the readers' advice re (1) how to handle his attentions and (2) whether I should report him to someone in the firm? FWIW, I have been aware of his reputation of flirting with other attorneys, but have learned of his recent shift to a staffer.
Yeouch. We've talked before about handling a flirting client, dealing with unwanted attention from older men while networking, and even about dating at the office — but not this particular situation. In my legal-eagle days, I would have considered any partner (even if he was in another office or another group) to be my "boss," and someone who sits on the Executive Committee — presumably with firing powers — to especially be my boss. So I can see why Reader J is concerned, and I'm curious to hear what the readers say. (Pictured: Hey so I was wondering if maybe you might want to…, originally uploaded to Flickr by nate bolt.)
A few thoughts:
Be polite but direct. "Thank you for your interest, but I don't date coworkers." Period, full stop, end discussion. (Or EVEN: "I'm flattered, thank you — but I'm not interested.") You can come up with another reason if there is one — you only date Roman Catholics whose birthdays fall under the sign of Aquarius, for example — but I think the answer here needs to be an outright, explicit NO. I actually totally disagree with your friends' advice re: "stroking his ego" and "not outright rejecting him" — he's a big boy, he can take it.
If the direct route is hard for you to do (and don't beat yourself up too much if it is), you can always take a few other routes to "no." What are you doing this weekend? Attending my boyfriend's kickboxing competition, thanks! Yes, it's a new relationship — we met at the gun show.
As far as reporting him goes — have you taken the steps above and been very clear with him that dinner and drinks are not on the table? Does he persist? Now we're getting into territory that is less gray. Has he ever made physical advances toward you? Has he ever suggested your job might be somehow related to dating him? Do you feel like he might speak ill of you, without giving context, to other partners? All of these would nudge me more toward "tell HR." I suppose the safe money would say to go ahead and tell HR regardless — perhaps a quick email after you have that "polite but direct" conversation we talked about, just to give them the heads up — readers, what do you think? How would you handle unwanted advances from a person of authority?