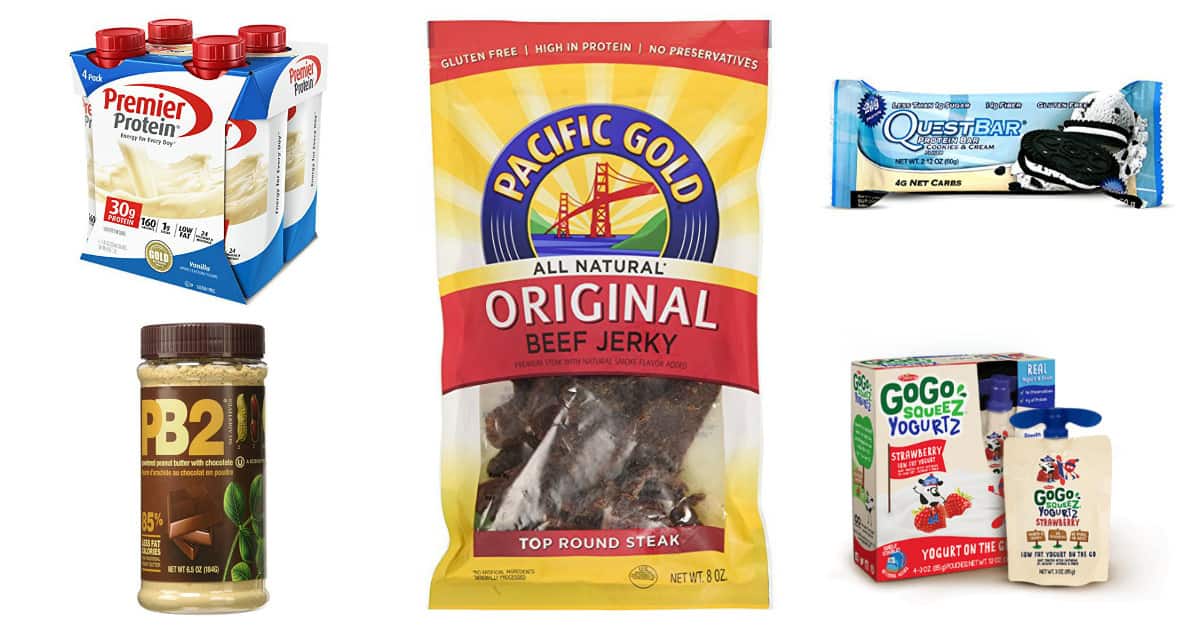 It's been ages since we talked about healthy snacks for the office — let's hear about your favorite snack ideas for work, ladies! During my legal eagle days I spent so much time at the office that snacking was par for the course — I used to keep a banker's box on my window filled with random snacks (mostly 100-calorie pouches and things like Fruit Gushers).
I also splurged on a teeny fridge so I could keep cold water, a Diet Coke, a string cheese or two, and possibly sandwich fixings or yogurt nearby. I tried to avoid the office fridge where possible (things tended to… disappear in there…) but I kept a few things in the freezer on our floor, also. (My office weirdly kept the microwave on another floor entirely so I didn't keep as much in there as I might have otherwise!)
These are some of the best snacks I'd recommend you look into keeping at the office, both to keep your energy up for long-haul days, as well as to keep you from wandering to the local Starbucks (bad for your budget and your waistline)… I've never been much for packing a lunch daily, but I would bring several things in at the beginning of each week (yogurt, sliced cheese to add to bagels, etc).
How about you, ladies — what are your favorite snacks to bring to work? What do you pack each day, each week — and what do you keep at the office? Do you pack a lunch regularly, or try to cut costs by bringing the "expensive" part of a lunch (e.g., meat, cheese, a more exotic ingredient like artichoke hearts, etc. to add to an affordable plain salad or bagel)?
Psst: hunting for stylish office lunch containers that are also eco-friendly? Some of our favorites (Sistema containers, Thermos food jars, and this classic bento) are pictured below — also check for cute lunch bags from Modern Picnic, Artelaris, Kate Spade, and Built NY! (If you're working from home, we love glass containers from Snapware and Anchor Hocking.)
Shelf-Stable Snack Ideas for Work
Even if you have access to a fridge, sometimes it's easiest just to keep a few things in your desk drawer.
Peanut butter or powdered peanut butter like PB2 – I'm a fan of the powdered peanut butter for portion/calorie reasons (I add it to greek yogurt, oatmeal, and sometimes just mix it with water to eat with apples) but it's hard to beat a jar of peanut butter and some crackers in your office for an "I have no time to go get lunch today!" lunch.
Yogurt or applesauce pouches like GoGo Squeez – (sure, your toddler loves them, but they're also a relatively healthy choice for you too — and they're shelf stable!)
Premier Protein or other muscle drinks — these can fill you up for those days where you really "can't leave your desk" but need to drink something — I like to add a splash to coffee or tea for a teensy midday snack, but once opened do note that you have to refrigerate. Some people on Weight Watchers LOVE to take Premier Protein and add an entire container to a shot or two of espresso for a DIY Frappuccino.
Oatmeal – oatmeal packets are the easiest, but I have a friend who keeps a cup of old-fashioned oats in a baggie in her purse and just asks for hot water when she needs a quick snack. I like to add powdered peanut butter to plain oatmeal, maybe with a splash of Premier Protein… you can also add dried or freeze-dried fruit,
Jerky – an important note, though: once you open a jerky packet it has to be refrigerated. (This was recent news to me and I've been eating jerky as a main snack for a thousand years!) For portion control/no refrigeration requirements I'm a fan of the Pacific Gold packets of beef jerky.
Fruit – All uncut fruit is shelf stable in that you don't HAVE to refrigerate it, and I'm a big fan of grabbing an apple or banana for a quick snack. Both are great to mix into oatmeal, or to eat with a bit of peanut butter. You can also keep prepackaged fruit cups (I just saw some with chia added…)
Protein Bars – I just saw that Labdoor proclaimed Quest bars to be the best in terms of nutrition and price; I've also been a fan of RX Bars, Good Greens, Luna, KIND bars, and Oh Yeah bars.
Tuna or other canned/pouched seafood – They make a lot of flavored tuna pouches now, but I'm a big fan of mixing tuna with wing sauce (also shelf stable) — it's weird but it's so good! You can add these to salads or sandwiches, or eat by themselves. A tip: be verrrrry careful if you're opening a can; you don't want it to spill on you or (gasp) the office carpet near your desk. Also be wise in finding a place to dispose of the can or pouch.
I wouldn't call them healthy, but there are obviously a ton of portion-controlled snacks to consider, like my 100-calorie pouches, Fruit Gushers, or more. If you prefer to make your own portion-controlled snacks or otherwise want reusable lunch containers, we've discussed this a bit at the moms' site — these snack bags are great for dry snacks, as are these Bento boxes (I tend to fill them with popcorn for my son at school).
Snacks To Keep in the Office Fridge
Whether you've got a mini fridge at your desk or you just make good use of the office fridge, there are a lot more snack ideas for work once you can refrigerate. A lot of these can also be brought in with an ice pack for lunch — but then you have to generally eat them that day.
Yogurt – I eat a lot of yogurt, what can I say?
Cottage cheese
Cheese Slices, String Cheese, Babybel Cheese – years ago when I just started and was on a crazy budget, I used to buy a bagel at the deli for $.50 and add my own cheese or meat from home to make a really cheap sandwich.
Hummus (I've even seen hummus in single portion containers)…
Overnight oats
Turkey pepperoni, rotisserie chicken, or other meats — add to salads, eat plain
hardboiled eggs (but watch out for the smell factor if you store them in a public fridge)
egg frittatas/egg muffins you make at home – I love eggs but just can't get into these, but if you can they're great.
Salad fixings – If you feel comfortable leaving things in the office fridge for multiple days, this is a great way to save on salads and sandwiches for lunch — you can keep artichoke hearts, olives/pickles/pepperoncini/jalapeños, shredded cheese, salad dressings, and more.
Great Snacks for the Office Freezer
If you have access to a microwave or toaster oven your world opens up substantially — keep bags of broccoli or green beans to bulk up frozen meals, keep frozen meals, bring canned foods that are better heated (green beans, soup, beans). If you DON'T have
Vitatops – If you like a carby snack, these are great — portion controlled and full of fiber. (You can also make your own!) They're frozen, but if you don't want to use a microwave you can just get some hot tea and put the Vitatop on top to defrost.
Frozen fruit, like grapes or bananas – I'm a big fan of freezing bananas once they get too ripe. You can freeze them whole if you're going to be using them for baking, but for office purposes I'd break it into pieces before freezing. These are great to add to oatmeal for a nice hit of sweetness. Frozen grapes make a great snack by themselves, particularly in summer months.
This can be a bit messy, but you can also make smoothies at home, freeze them into ice cube trays, and then bring them in to keep in the office freezer, too…
How about you guys — what are your best snack ideas for work?
Photo credit for some social media (apple against keyboard): Shutterstock / Falko Matte.