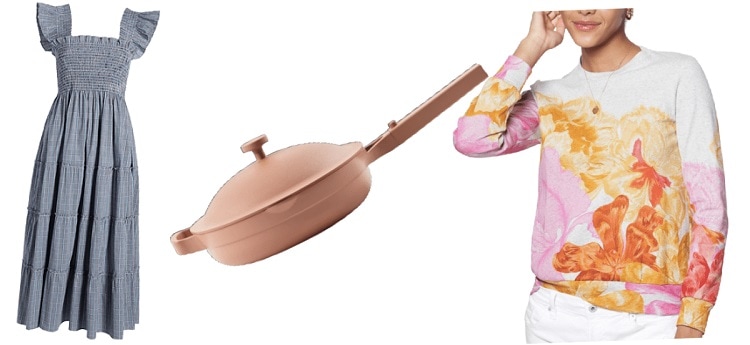 We haven't had a discussion about this in too long, so here's a fun question today: What is social media trying to get you to buy? What have you bought; what do you love?
For me, it feels like The Nap Dress by Hill House is now The Dress to Have — I think it's interesting how when friends have gotten it they make up stories about when they'll wear it, like "This will be my brunch with the girls followed by a trip to the farmer's market!" Or, you know, "picnic at the lake with Earnest!" (Pictured: the Ellie dress, $125.)
(LOOOOOVE this New Yorker article, which calls it the dress of "gussied up oblivion" and goes into how the founder created it as part of her "Victorian ghost" aesthetic while she was an analyst at Deutsche Bank. As she notes:
Her interest in period loungewear, she explained, dates back to her college days, at Princeton, where she wrote her senior English thesis on "Pre-Raphaelite women using very traditional notions of femininity to quietly subvert their husbands," with a focus on a single line from Milton's "Paradise Lost," about Eve's wild hair. She became interested in the connection between the white cotton gown and hysteria; it was the signature garment of sanatoriums and dusty attics, of women in Victorian novels who have been pronounced "mad" but are in fact victims of trauma or abuse.
Wow — I love the historical aspect. (I couldn't find this earlier because you have to be logged in to see more than two paragraphs, which was not clear to me. Sigh. In hunting for the part that I'd read, I also found a tour of her West Village townhouse with Architectural Digest and her wedding coverage from Vogue. Again: wow.)
I somehow just found The Kit, which wasn't on my radar before — now I want all the pretty sweatshirts and turtlenecks and midi dresses and T-shirt dresses. (I NEVER wear turtlenecks but dangit I want some of theirs.) Pictured: turtleneck in Indigo Iris, $68, available in sizes XS–3X.
And of course I DID buy the Always Pan from Our Place, and love it — here's my review.
I get too many mom-related and blogging-related ads — so I'd love to hear from you guys! What is in your feed(s) all the time? What have you bought and tried? What do you want to try?