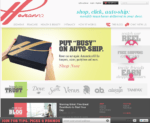 So a few months ago, I got to meet the founders of this new site, Hoseanna, and was introduced to what I seriously think is a great idea: letting busy women put some of those fundamental things (the ones you buy again and again) on auto-ship. That way, you don't have to waste valuable mental space (or that even rarer commodity: free time) over these things — they just magically show up at your door on your schedule.
When the site launched it was just a curated hosiery collection (hence the name, Hoseanna) — but the site recently expanded. They still have legwear (now with more brands, including Berkshire, Calvin Klein, DKNY, Hue, and more). But the new site delves into some of those other little things that women hate to buy (and especially hate to ask their significant others to buy): feminine care like pads and tampons, as well as intimate things like condoms and lubricants. They even have a bunch of brands in the "health and beauty" category — you know, the items that even YOU manage to grab the wrong item off the shelf, no matter how much you think you know what you want. Alba, Aveeno, Biore, Blistex, Burt's Bees, Carmex, ChapStick — you can put it all on auto-ship. I also like that the box includes a monthly surprise treat — and that now, as a bonus, you can earn shopping dollars for future Hoseanna purchases when you refer a friend.
This video explains what they do a bit better (and a bit more amusingly) than I do…
Don't forget that we're currently running a giveaway with the service — click here to enter to win a $50 shopping credit to try out Hoseanna!