Update: We still stand by this guide to stylish cardigans for the office — but you may also want to check out our recent roundup of sweater jackets for the office!
We shared our first Corporette Guide to Cardigans way back in 2010, so we figured it was time for an update — and the timing is just right for those of you who freeze in your air-conditioned offices during the summer, or are shopping for easy layering pieces for the fall. We've talked about how how to button cardigans for work in the past, as well as how to buy seasonless cardigans.
Ladies — which is your favorite KIND of cardigan to wear to the office? Do you have a favorite brand or style that you keep buying, or have stocked up on recently? What are your biggest struggles with finding stylish cardigans for work, or styling them to look appropriate for work?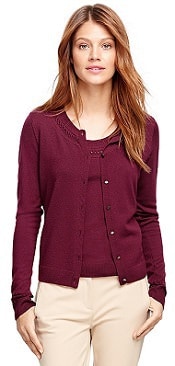 1. Banded. These cardigans have some banding at the bottom and (usually) on the sleeves, which makes their shape a bit blousy or boxy. They can come with a matching shell for a twinset look, or be worn by themselves with, for example, a button-front shirt or blouse, or a nice tank or tee (for example, the Ann Cardigan or your typical Brooks Brothers cardigan)
Because these kinds of cardis have their own shape, they're less than ideal for wearing with dresses, and, for our $.02, best with pants.

If the twinset is very boxy (think a more Jackie O cut), then they can be worn over your shoulders, almost like a cape. Other examples: reader favorite Supima Cardigan at Lands' End ($19-$89, a zillion colors and prints, regular, petite, and plus sizes), reader favorite Charming Cardigan at Talbots, $19-$99, this merino cardigan in 12 colors for $39 at Uniqlo, or this J.Crew cashmere cardigan (16 colors!, sizes XXS-XXL; pictured at very top). One of my budget favorites has always been August Silk — look for them at spots like TJ Maxx, but Amazon also carries them, as does Macy's.
2. Structured, shrunken; aka a sweater blazer. These are harder to find in their purest, wear-it-to-work form: They almost look like a blazer, but because they're made out of a sweater knit they're more comfortable to wear; they convey authority but in a friendly way. (They may have been replaced by the popular ponte blazers, which are everywhere; they're just as stretchy but often more washable than a sweater blazer). These are best kept at the office or worn on a day when the temperature is going to be pretty constant — they can be a pain to transport because they're too bulky to put in your bag, and they're really not intended for wearing over your shoulders. The pictured one is from Brooks Brothers for $198; Neiman Marcus has always had a one-button cashmere blazer in a number of colors, now on deep discount at Last Call in a few colors for $88-$103; this Safari Sweater Jacket from Talbots is also nice for $129. This shawl collar blazer from Armani also looks like it fits in this category. This longer one from Lauren Ralph Lauren might look great with skinnier pants; it's $165 at Macy's. This Curzon jacket from Boden is a very modern take on it, and only $148; this Boss wool one (in black and ink) also looks lovely. There are open-front sweaters aplenty (such as this Old Navy one or this Ted Baker one) which kind of fit into this category (but I always prefer ones with some shape to them, like the one pictured). This zippered white sweater blazer from Calvin Klein is only $53 (was $180!) and is available in sizes S-XL.
3. Boyfriend cardi. If you prefer a looser, longer, almost boxier cut to your cardigans, check out this style — they're longer (but not as long as a long cardigan), and usually have buttons; Tory Burch's Simone (pictured) is a style that has been around for years at this point. (Neiman Marcus has it in six colors for $225!) Depending on your outfit, they can be great paired with low-volume bottoms like straight pants, pencil skirts, and simple sheaths. We like pairing them with a long necklace, as well. A note on belts — these may come with a belt, which, if you don't like belts, you can just tie behind the sweater (this also gives it a more "nipped in" look than the sweater may have otherwise). If you prefer belts, though, a skinny belt or a wide belt can work with these kinds of sweaters. Pictured (note that there are even longer, looser versions of this that are actually called "boyfriend" cardigans; the basic Simone has always struck me as a boyfriend style though — there are "shrunken" versions that look more like the "plain" cardigans.) Other examples: Silk and Cashmere cardigan (available on sale at Brooks Brothers for $79, was $198), Equipment's Sullivan Cardigan ($318 at ShopBop) (ooh, or Nordstrom has more colors in the Sullivan); this Burberry Brit cashmere one comes in 6 colors. On the budget side, Everlane's is only $155;
4. Draped cardigan, aka waterfall cardigans. These are great for a casual day (or the weekend), but can be tough to make them look professional — they look best for the office when paired with very structured pieces such as a fitted sheath dress. (They're also a great addition if you want to transition your wardrobe to a business casual office.) These are looser, and have more volume than a boyfriend cardi, but are just as long — they can be great to wear with leggings or ponte pants where you definitely want coverage. The pictured Bobeau cardigan is hand-washable and available in 12+ colors at Nordstrom; this $99 Velvet cardigan has great reviews at Zappos. You can find a lot of higher end, cashmere ones (such as this gorgeous DvF one), but watch out if you want to wear them for work; thinner material usually works best here.
5. Short cardigans: shrug, bolero, cropped cardigan. These are short, cropped sweaters; the shorter ones only cover your arms and shoulders, while others fall to your lower back. Many, but not all, have three-quarter length sleeves (or shorter). We've listed them together here because one brand's "shrug" is another brand's "cropped cardigan," and vice versa; there's a lot of overlap in labeling. For my money, these look best with fit-and-flare dresses, maxi dresses on the weekend, or — if you're feeling more avant-garde — extra-long, drapey blouses/tunics/dresses. Pictured: Limited Pointelle Knit Cardigan ($14-29, was $49). Others: Only Mine offers several well-reviewed shrugs at Nordstrom for $58-$72 in lux fabrics like wool and a cashmere-silk blend. Brooks Brothers Silk Blend Bolero Jacket ($59, was $118); Ann Taylor often has one in stock too. This Boss Feisa cardigan (on sale at Nordstrom and Bloomingdale's) looks like a nice marriage between a cropped cardigan and a sweater jacket.
6. Long cardigans. Long cardigans are EVERYWHERE this season — these are another style of cardigan that can be really difficult to style professionally. For my money, the ones that are best for the office are above the knee, and fairly sleek. Avoid nubby knits like boucle or wide, heavy sweater knits, because they'll end up looking like bathrobes (professional!); I'd also avoid the cocoon look if you're hoping to wear it to work. Instead, look for tighter merino or cashmere knits, like the one pictured, available in regular and petites (which was one of my keepers from the Nordstrom sale — it's now $79, available in three colors), or this merino/silk cardigan for $138 at Boden. Other options: I'm still drooling over this one from Boss, this silk/wool/cashmere blend from ATM Anthony Thomas Melillo, or this awesome ribbed one from Vince. On the more affordable side, this $39 open-front version from Old Navy looks nice and comes in regular, tall and petite sizes; as does this $54 cardigan in neutrals at Loft, available in sizes XXS-XXL in regular and petite sizes. This $62 Sasha cardigan (was $198!) at Reiss looks like a gorgeous marriage between a boyfriend cardigan and a long cardigan. Finally: I'm usually against long vests (hate the trend in general!) but this long cardigan vest at Bloomingdale's kind of looks cool.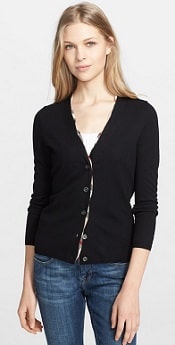 7. Fitted cardigans. Finally, a sad trombone note: I've been shopping for cardigans for hours at this point and have found very few examples of what I described in 2010 as the "plain" cardigan that I liked to stock up on — the silk cardigan that's fitted to the body and is devoid of a boxy feel because it doesn't have banding at the bottom. This Burberry Brit sweater, pictured, is all I am looking for — is it really so hard, retailers? (This Lands' End sweater kind of accomplishes the look, but I feel like that's more through the magic of buttoning (and likely clipping it at the model's back). The shrunken versions of the Simone cardigan also kind of have the look, but the sweater feels chunkier, less streamlined than what I would want, ideally.) These ballerina sweaters from DvF are kind of the same idea (and in a zillion colors at Nordstrom and Bloomingdale's), but not really. Ladies, have you found a good trove of these? (Coincidentally, I've noticed a lot of readers complaining that cardigans are hard to fit their bodies lately — is that because we're all searching for the same cardigan that doesn't seem to be made right now?) What do you ladies think?
Finally, a shout-out to the popular Nic + Zoe convertible cardigan, which can be worn sometimes as a waterfall, sometimes as a cropped sweater, and sometimes as a fitted cardigan — nice. (You can see all of the conversions with this picture.) There are often matching tanks available, as well.
Ladies — which is your favorite KIND of cardigan to wear to the office — and do you have a favorite brand or style that you keep buying?
Like this post? Please consider pinning it!