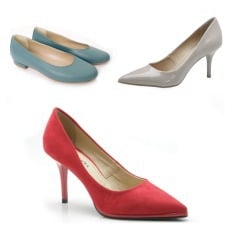 2019 Update: We still stand by these stylish vegan shoes for the office — but you may want to check out our most recent discussion of the best vegan shoes for work.
"Stylish" might not be the first thing that comes to mind when you think of vegan footwear, but in 2017, it's definitely possible to find stylish vegan shoes for the office — in all sorts of styles, from pumps to boots to flats.
Reader L recently asked:
Are there any non-leather, stylish and well-wearing shoes out there? I'm a vegetarian and don't buy leather, but all the man-made or vegan shoes I buy either don't wear well (usually not longer than a season) or look like pilgrim shoes. I know there are great companies like Matt & Nat who make amazing bags, but I haven't been able to find a well-made, vegan pump!
In our last post rounding up brands for the stylish vegan professional, we featured several vegan shoe brands, including Olsenhaus, Matt & Nat, Nicora, and Beyond Skin (along with a few vegan clothing and handbag brands), but to answer Reader L's question, we're expanding on that a bit today by featuring several more brands recommended by readers (and by some vegan/vegetarian friends) that are great bets for stylish vegan dress shoes. (We last did a roundup of vegan, non-leather shoes for the professional woman in 2010!) The shoes we're featuring today are affordable, too — plenty are under $100. (By the way, for weekend vegan shoes: Birkenstock recently introduced a vegan collection, some of it for sale at Zappos.) Which are your favorite stylish vegan shoes for the office? What are the brands that you've found to wear well and really last?
This post contains affiliate links and Corporette® may earn commissions for purchases made through links in this post. For more details see here. Thank you so much for your support!
Clockwise from top left: Ballerina Flats, $99 / Victoria, $59.99 (sale) / Nira, $79.99 (sale)
In addition to the brands below, also worth a mention is MooShoes, which has a huge selection of cruelty-free shoes, bags, etc., both online and at their stores in NYC (Lower East Side) and LA (Silver Lake); the brands they carry include Olsenhaus, Matt & Nat, Nicora, Novacas, Bhava, Ahimsa, Melissa, and Bourgeois Boheme.
5 Brands Offering Stylish Vegan Shoes For the Office:
The Flat, emerald, $125 / The Flat, Captoe Black, $125 / The Point, cobalt solid, $145
Rothys
We've featured Rothys a couple of times, most recently The Point, which is one of their two styles — the other is The Flat. Rothys details their mission on their website: to create a shoe "with the ease of a sneaker but with the polish of a feminine flat … with low-waste, low-impact materials, hand-assembled for high quality and durability." The shoes are lightweight, made from recycled materials (as well as recyclable), machine washable (!), and moisture-wicking, and the knit they're made from is "blister-free." The Point ($145) and The Flat ($125) are available in sizes 5–12, and the site offers free shipping and free returns.
Levi, $79 / Nira, $79.99 (sale) / Victoria, $59.99 (sale)
Neuaura
Neuaura, founded in 2007 by a lifelong vegetarian, makes animal-free, eco-friendly boots, flats, heels, and wedges. A portion of the proceeds from one of its factories (a sustainable operation in Southern Brazil that's run with hydroelectric power) is donated to environmental charities, and on average, 68% of the factory's waste is reused. Neuaura offers free shipping on all U.S. orders.
Wide Low Booties, $95 / Smart Courts, $101 / Ballerina Flats, $99
Will's Vegan Shoes
Based in London and founded in 2013, Will's Vegan Shoes & Accessories Co. sells vegan and ethically made shoes, both for women and men. On their site you'll find flats, sandals, boots, pumps, and more, in regular, narrow, and wide widths. Sizes available are 5–11. Bonus: They offer free shipping and 365-day returns on all U.S. orders. They also make accessories — belts, wallets, briefcases, satchels, totes, and more.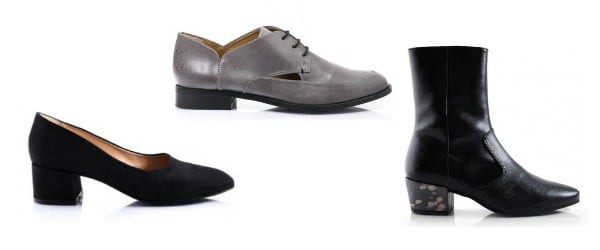 Carrie, $195 / Tilda, $138 (sale) / Ana, $310
Bourgeois Boheme
Also based in London is Bourgeois Boheme, a vegan shoe company founded in 2005. It has a slow fashion philosophy and offers flats, heels, boots, and sandals, including some office-friendly styles, that are eco-friendly and made by "hand-picked artisans" in Portugal. The company also makes shoes for men. Bourgeois Boheme avoids using PVC, which is commonly found in vegan shoes, because of its harmful chemicals and negative environmental impact, instead using a cotton-backed microfiber polyurethane called Mycro©, plant-based polymers, and other, safer materials.
Peterson, $55 (sale) / Brava Encore, $59 / Parker, $69
Jambu & Co.
Founded in 2010, Jambu & Co. makes three brands, Jambu ("premium looks"), JBU ("trendy"), and JSport "sporty, casual"). As you can tell from the names, not everything made by the company is appropriate for work — most of the shoes are best for a casual or possibly business casual office (or for casual Fridays) — but they're definitely worth checking out. The shoes' features include a contoured memory foam footbed; waterproof, water-resistant, and "water ready" classifications; and a non-marking, partially recycled rubber outsole. Some, but not all, of their offerings are vegan, and the size range is 6–11. As for production, the website makes this claim: production (in China) is "closely supervised" and the operations have "strict standards that are monitored."
Where do you look for stylish vegan shoes for the office? Did you know that you can search both Nordstrom and Zappos for vegan shoes?
Social media images via Stencil.