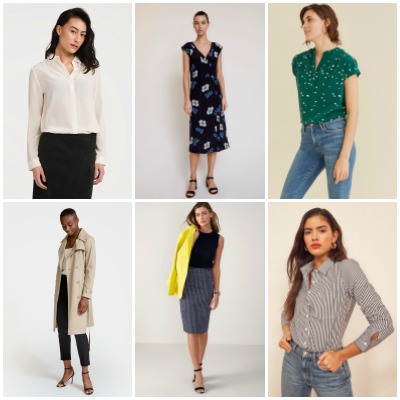 In honor of Earth Day today, we're sharing an update to our Guide to Slow Fashion: more slow fashion workwear brands. We'll talk about brands that emphasize quality craftsmanship, ethical practices, and eco-friendly production.
As of 2023: If you're hunting for eco-friendly clothes to wear to work, check out major brands like Boden, Eileen Fisher, H&M Conscious, Karen Kane, L.K. Bennett, Theory, Hobbs, and Ted Baker — Nordstrom also has a big section devoted to sustainable style! You can also check out smaller eco-friendly workwear brands like Aday, Amour Vert, Cuyana, Everlane, Emerson Fry, Grana, Reformation and Wallis Evera.
Wondering where to find eco-friendly suits for women? As of 2023, check out H&M's Conscious Line, Theory, and LK Bennett. NET-A-PORTER has some expensive options like Another Tomorrow in their NET SUSTAIN section.
Eco-friendly plus-size workwear can be even harder to find! As of 2023, these are the ones we know about — you might also want to check our roundup of made-to-measure clothing.
If you haven't yet checked out the series, here's what we've covered so far:
Small, independent brands are on one side of the spectrum, while on the other side are big fast-fashion companies such as H&M, Zara, and ASOS that are trying to be more responsible and sustainable — for example, we featured H&M Conscious in a previous post in the series.
A couple of years ago, Fashionista featured a piece that asked, "Do the H&M Conscious and ASOS Made in Kenya Collections Count as Ethical Fashion?" When you're seeking out slow fashion/ethical fashion, are you more likely to buy from a smaller independent brand with a sole focus on those practices, or a mainstream retailer with an ethical/sustainable line?
I'll note that the brands below offer a lot of items that are definitely more on the casual side (low necklines, high hemlines, more casual styles in general), but you can find office-appropriate pieces from all of them. Also, the entirety of the size ranges we mention for the brands aren't always available for every item they offer.
Here are some slow fashion workwear brands worth checking out:
Theory's "Good Fabrics"
Good Wool and Good Linen are Theory's environmentally-conscious lines, available at their own website (linen/wool) as well as Nordstrom (wool only — including Nordstrom exclusives) and Neiman Marcus (wool only). The merino wool comes from sheep in Tasmania and is ethically and responsibly farmed, while the flax that produces the stretch linen is grown in China without chemicals in a process that produces no waste. The fabrics are woven in Italy using renewable energy and other sustainable practices. Sizes are 00–16.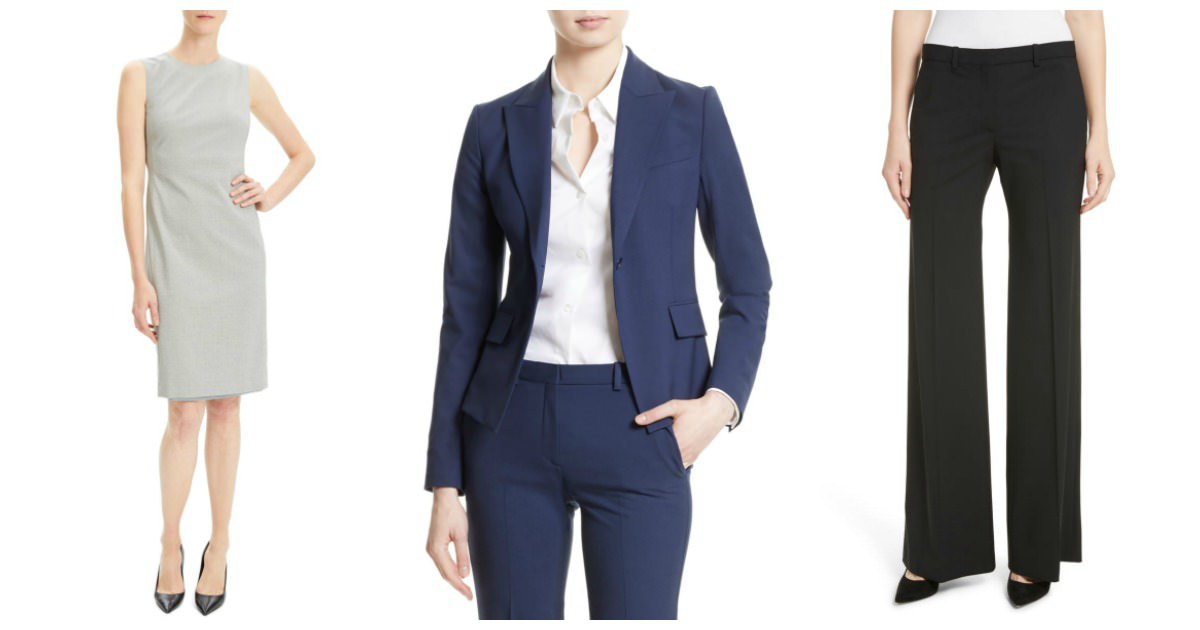 pictured above: one / two / three
Pure Collection
Pure Collection sources its sustainable cashmere from goats in Mongolia, where the company works directly with herders to avoid overgrazing — a big contributor to desertification — by encouraging them to give their goats healthy feed. They have a focus on slow fashion as well; as Pure's website notes, "Each one of our cashmere garments undergoes 40 different hand processes." The clothing is available on the brand's own website and from John Lewis. Sizes are 2–22.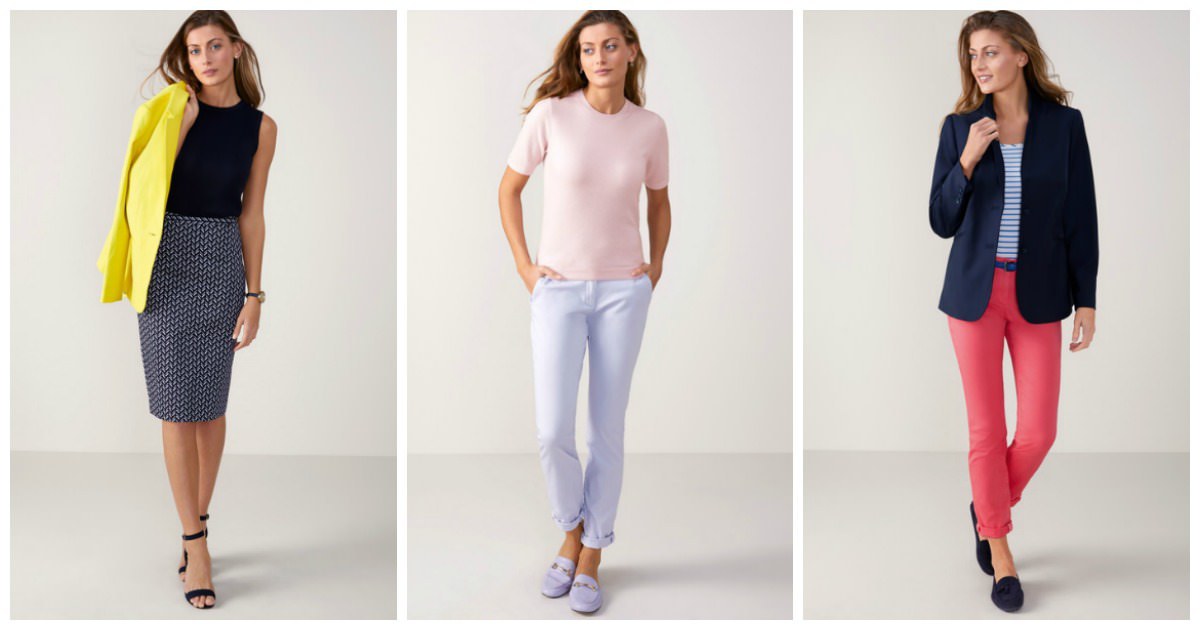 pictured above: one / two / three
Amour Vert
Amour Vert makes its clothing in limited quantities from sustainable fabrics — and 97% of it is produced in factories near its San Francisco office. The fabrics used include a sustainable, pesticide-free, biodegradable modal; GOTS-certified organic cotton; ethical merino wool; and more. Also, with every t-shirt purchased, the company will plant a tree in California's Sierra National Forest. After all, the brand's name means "green love" in French. (And now I have Jody Watley's "Real Love" stuck in my head, and oh yes I am old.) Sizes are XXS–XL.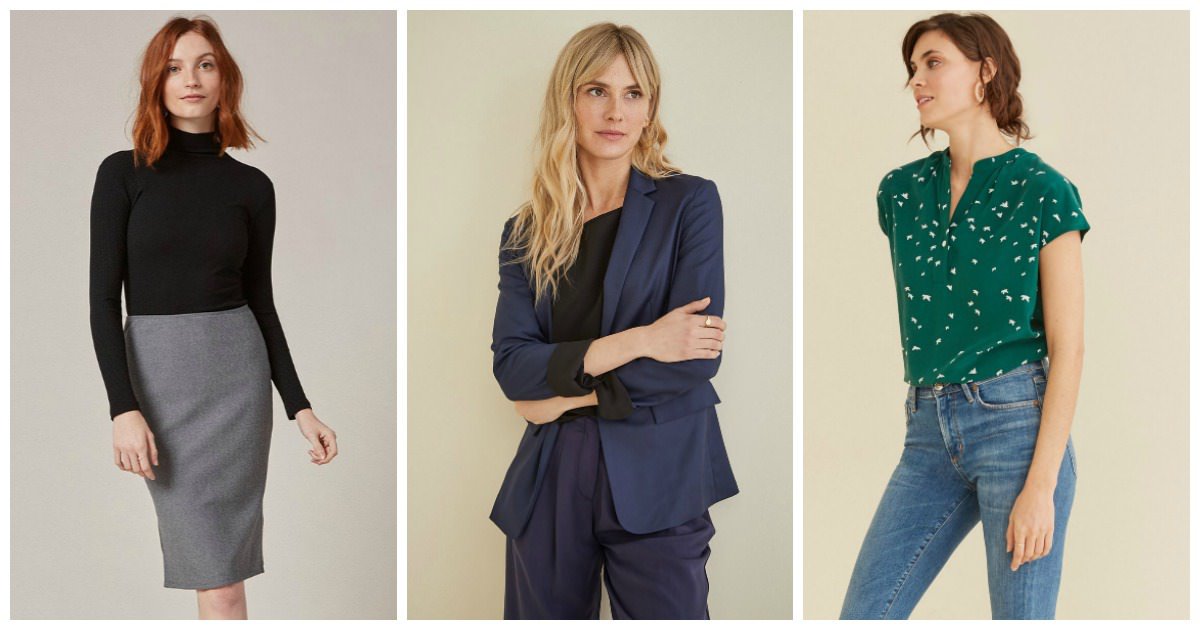 pictured above: one / two / three
Emerson Fry
Emerson Fry clothing focuses on "limited production runs each week of new and existing products" made in the U.S.A. and also offers its India Collection, made by artisans in India who use heirloom hand print and dye techniques on organic natural fabrics using low-impact and natural dyes. For its U.S.-made line, the company takes orders before producing the items, and you can sign up here to get updates. Sizes are XXS–XL.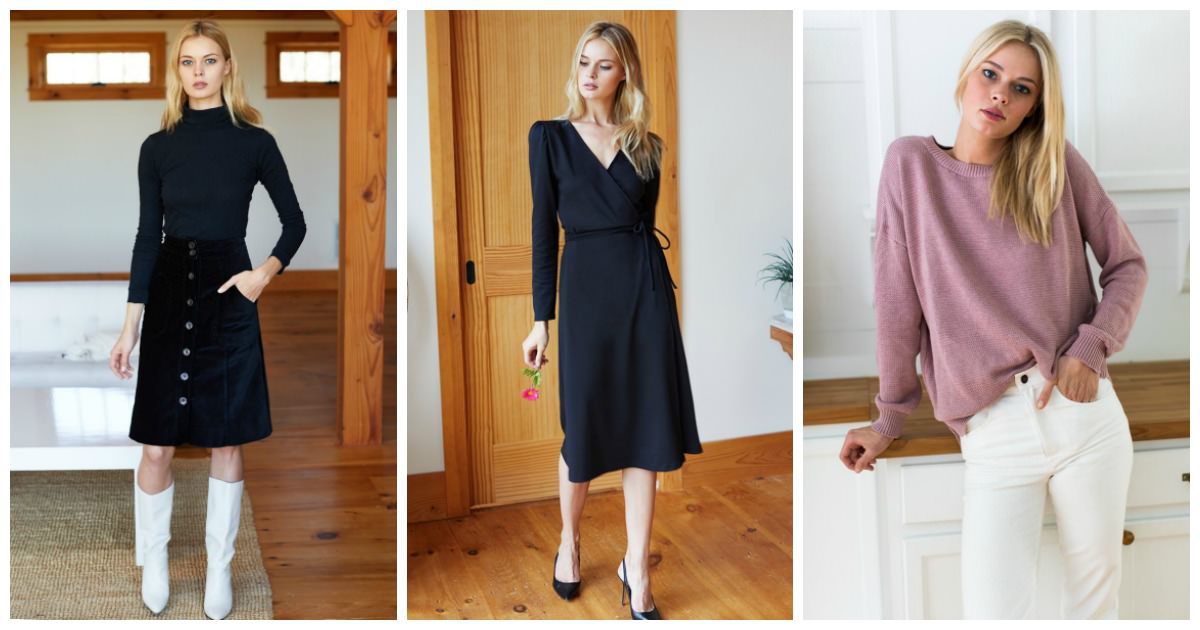 pictured above: one / two / three
Reformation
Reformation tries to keep 75% of its fabrics either (1) natural fibers that are rapidly renewable and plant-based and have a potential for circularity, and (2) almost all natural or recycled fibers. They prioritize energy-efficiency, recycling, locally/domestically-sourced materials, green building practices for stores, and ethical/sustainable practices in general. Most of Reformation's clothing is made in the U.S., and you can actually tour the factory in L.A.) Sizes are XS–3X; you can also find the brand at Nordstrom.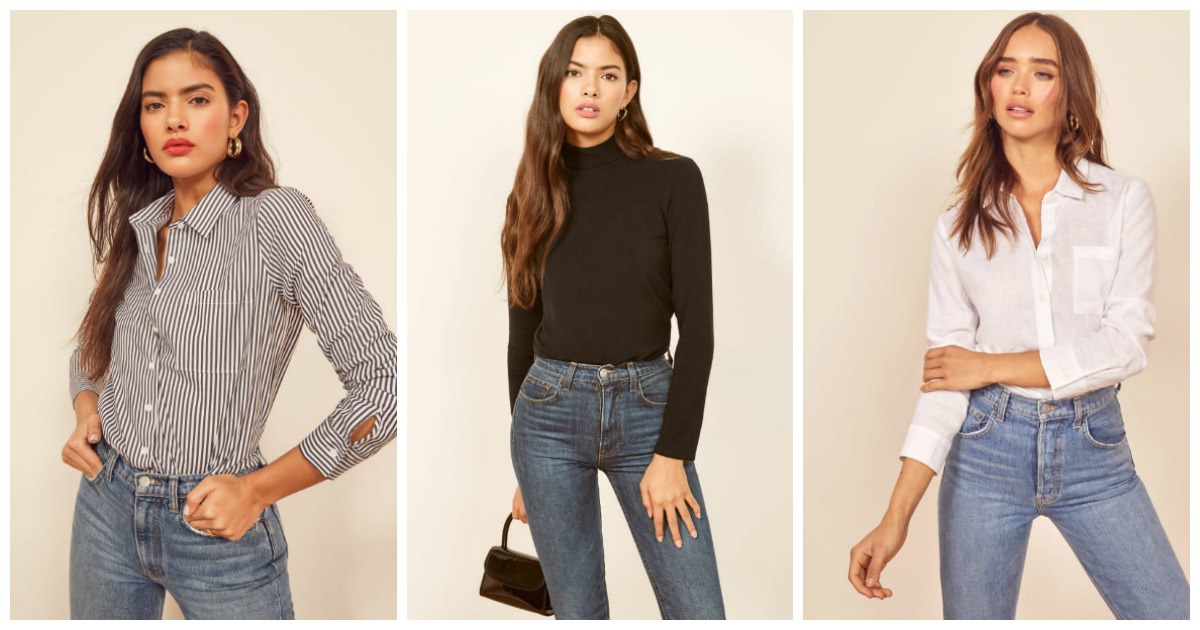 pictured above: one / two / three
No.6 Store
No.6 Store says it "takes great pride in its manufacturing practices" — and it makes its signature clothing line and handmade clogs in the U.S. In contrast to typical fast fashion practices of selling inexpensive, trendy items for customers to only wear for a short time, No.6 Store says its goal is to "create pieces that can be worn over and over." In addition to its own designs, No.6's site also offers dozens of other designers. Sizes are XS–L.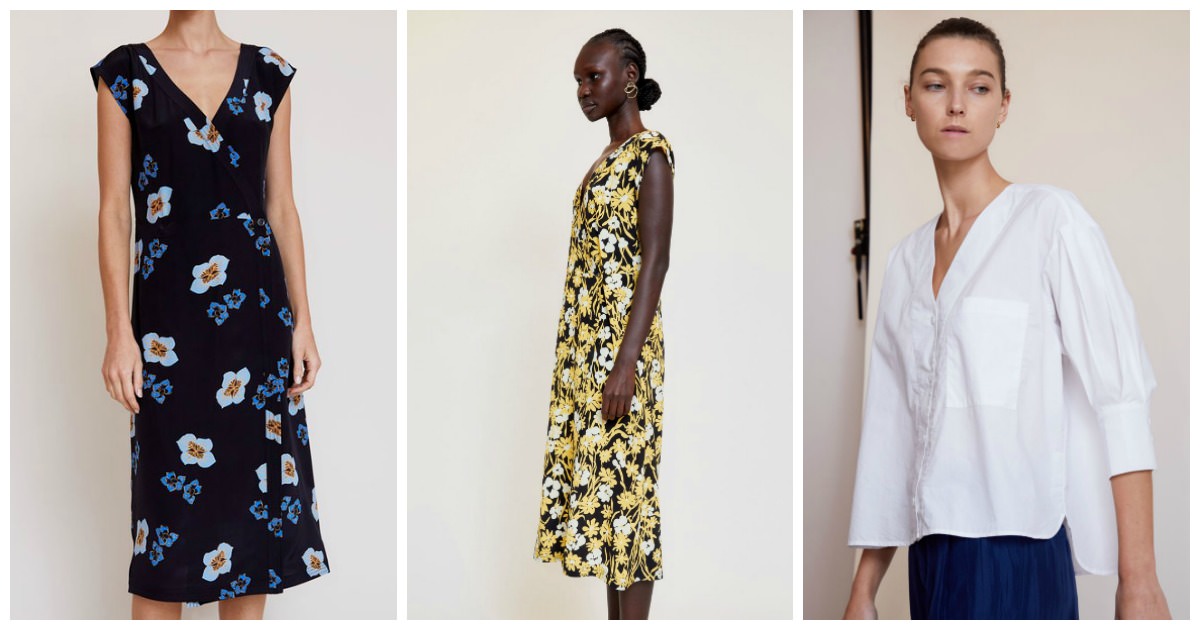 pictured above: one / two / three
Grana
On its website, Grana states that it wants to "fight fast-fashion one item at a time." The site shares details about the origin and production of the various fabrics used; for example, its Tencel™ is made from sustainable forest wood pulp, and the chemicals used to make it are reused, not released as pollutants. Note that Grana's wool comes from Tasmania, the source of Theory's Good Wool, and that it's woven at the same Italian mill, Tollegno 1900. (Sound good? Get 10% off with our referral code!) Sizes are XXS–XL.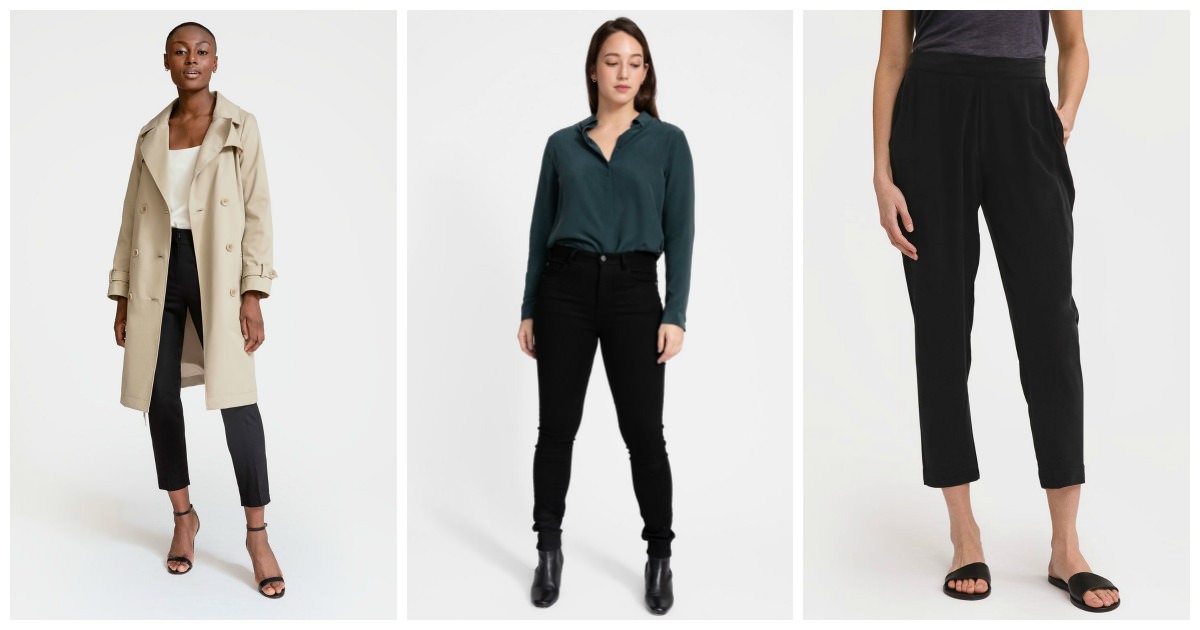 pictured above: one / two / three
Emilia George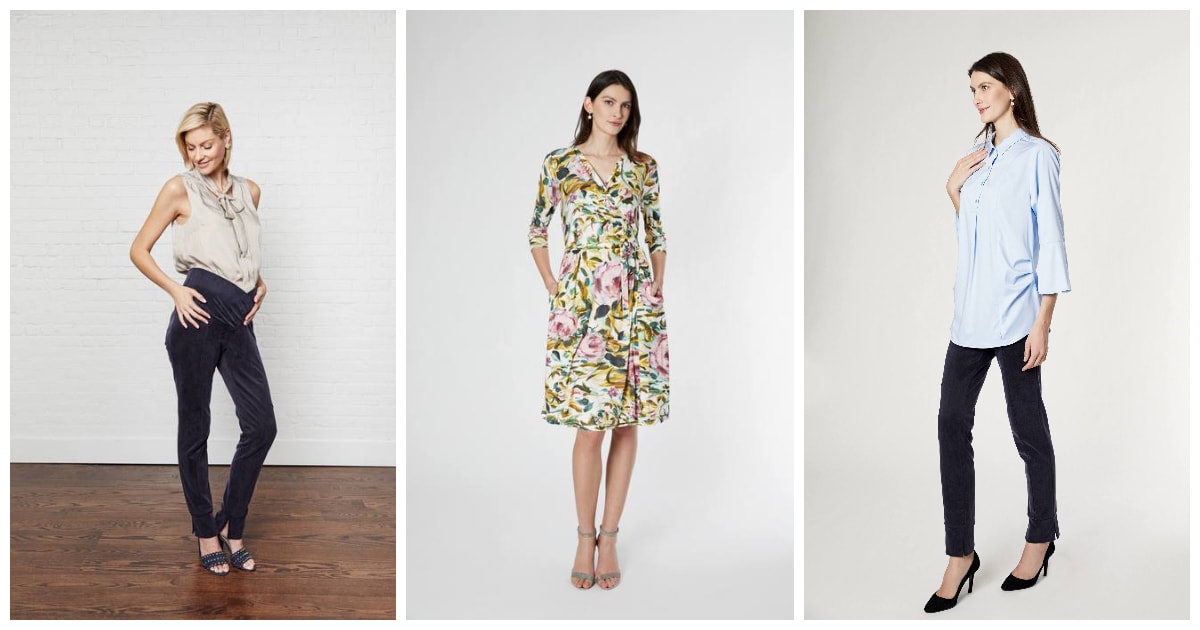 pictured above: one / two / three
Emilia George is a new, high-end workwear brand based in NYC — and mostly made in NYC — that's designed for moms and moms-to-be. Their pieces use soft, breathable, sustainably produced fabrics (such as bamboo and cupro), nearly all of which are OEKO-TEX® certified for safety.
The brand has a wide selection of dresses and a smaller number of tops, blazers, and pants available. Their Fabrics Matter collection offers several dresses that are meant to help women transition from work-from-home life to office life and to provide comfort in warm weather.
Readers, do tell: What are your favorite slow fashion brands for workwear? When you buy clothes, how important is it to you to support sustainable and ethical practices?
Further reading: