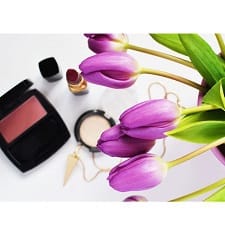 After putting together our Slow Fashion Shopping Guide and sharing more recent posts on brands offering stylish vegan shoes for the office and clothing and accessory brands for the stylish vegan professional, we thought it was time to take a look at cruelty-free makeup — so today we're featuring the best cruelty-free beauty products, as well as a list of resources to help you find even more.
Labeling a product "cruelty-free" typically means that it hasn't been tested on animals, but you may also encounter other phrases: "not tested on animals," "against animal testing," etc. Here's another complicating factor: Animal testing within the U.S. has thankfully become rare, and the E.U. has banned animal testing of both cosmetic ingredients and finished products, but in China, imported cosmetics must be tested on animals. If, say, your company's mascaras are tested on animals, you can't sell them in Europe — but you can't sell them in China without testing them on animals, either by your company itself or by the Chinese government. To make it easier to find beauty products that are cruelty-free — and to check the brands you're currently using — we've listed many online resources at the bottom of this post.
Psst: Have you seen our post on beauty empties — the products you finish and then buy again?
Here are Corporette readers' picks for the best cruelty-free products, from drugstore to higher-end brands:
*Brand's parent company is not cruelty-free.
Beyond that, here are some resources that simplify the process of finding the best cruelty-free beauty products:
What do you think are the best cruelty-free beauty products? Have you found any good cruelty-free substitutes for certain items that you once used? Where do you get your information on what to buy?
This post contains affiliate links and Corporette® may earn commissions for purchases made through links in this post. For more details see here. Thank you so much for your support!
Picture via Stencil.