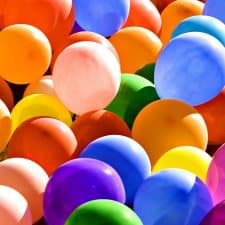 Thank you guys so much for taking the survey — the giveaway is now closed, but if you want to weigh in you can still take the survey. (I'm always grateful for feedback!)
I used Random.org to determine who won the giftcards — the first winner was #9, but that survey taker had not left her email address. The next random number generated was 1572, and the next random number generated was 436 — both of those survey takers have been contacted.
Results didn't change much from the interim survey results. Final numbers were:
Age: 33% of you are 28-32, with 26% of you being 33-37.
Relationships: 60% of you are married, 18% in a relationship, and 18% single.
Kiddos: 44% of you don't have any children yet, and 20% don't plan to have any.
Salary: 45% of you make at least 6 figures.
Degrees: 43% of you have JDs, and 9% of you have MBAs.
Career: 40% of you say you've been working 3-8 years in the same career.
Office environment: 58% of you said you worked in a "business casual" environment (defined in the survey as "for men, no tie but a tucked button-front shirt and khakis; women may wear blazers but usually as separates"), with 31% saying "business conservative" (defined in the survey as "men may wear a tie but keep their suit jacket in their office; women may or may not wear full suits often") and 20% saying "California business" (defined in the survey as "people may wear blazers with jeans").

48% of you have your own office, while 28% work in a cubicle or other shared office space.

Size-wise: 47% of you identified as a size M, 40% as small, and 29% as large. (Multiple choices were allowed on this Q and a few others so the percentages may be a bit screwy.)
Thoughts on Kat's style: 74% of you liked my choices "sometimes," with the chief complaint (35%) being that choices were too expensive.
Visiting the blog: The majority of readers visit Corporette once a day (35%), 30% visit a few times a week, and 21% visit multiple times a day.
Blog comments: 36% of readers said they read the comments either "always" or "usually," while 30% of readers said they read comments sometimes, and 26% said only if they were very interested in the subject matter of the main post.
Current blog content: In general most people thought the mix of current blog content was just right. 33% thought more beauty advice was needed, 37% thought more career/job advice would be good, and 35% wanted more financial advice.

The most loved features were the Hunt (67% loved it), Weekly News Roundups (50% loved it), Tales from the Wallet (49% loved it).
I also asked for readers' thoughts on a certain commenter in particular (rhymes with Shmellen): 38% had no opinion, 23% hated, 23% thought "it's fine", and 15% "loved" it. (I'm kinda surprised by these answers!)

Expanding blog content: We had a lot of ideas for ways to expand the content that we swung by you guys — the most popular was "interviews with regular working women" (61%), while roughly 48% of people also liked the ideas for more posts from Kate, short interviews with Big Name businesswomen, or guest "house" bloggers for fashion or jobs.
79% of people answering the survey had commented on Corporette 10 times or less, but 30% of people said they came primarily for the comments section.
Future Corporette projects (in addition to/outside of the blog): The biggest hits among our many ideas for outside projects were meetups, a podcast, a "Corporette Seal of Approval," ebooks, a paper Career Planner, and job listings.
Stay tuned while we explore these new avenues — and thank you guys again for your feedback! For some reason one of the projects I've started first was a paper Career Planner — I'm hoping to have a beta form available for download at least by the end of the summer. If you'd like to sign up to be notified of the planner when it comes out (and likely be offered a big discount on whatever initial price we attach to it), please sign up here.
Pictured: balloons, originally uploaded to Flickr by Ilario Prospero.