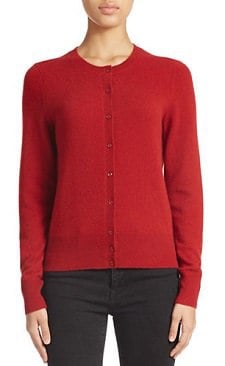 Sure, we all know what basics professional women are supposed to have in their closets, but if you're buying one for the first time or replacing one you've worn into the ground, it can be a pain to find exactly the right incarnation in stores. In "The Hunt," we search the stores for a basic item that every woman should have.
If you're going to buy a single sweater to start expanding a work wardrobe that mostly consists of black/gray/navy suits and white/blue blouses, what should you pick first? In my mind I think it's got to be a burgundy or red cardigan sweater — preferably in a silk blend so you can wear the sweater year-round(ish), wash it easily, and get a great drape if you button it and throw it around your shoulders — either on your summertime commute (after July 15 I'd say) or over a blazer as another layering piece in winter or spring (before March 15 I'd say). (So in other words, consider retiring it from March 15-July 15, but otherwise wear it all the other seasons.) It's also festive for the holiday season and Valentine's Day. You can pair it with oranges and pinks in the fall, and pale blues and even lavender in the winter. Ladies, what color cardigan do you wear the most?  What is your favorite cardigan brand and style? 
Note that the Lord & Taylor cashmere sale seems to be quietly happening today — lots of L&T-brand cashmere is marked down to $59-$69, including a nice red cardigan, pictured above, for $69 (was $174). 
First, some general round-ups for special interests:
Hall of Fame: Halogen, Talbots, Lands' End, Brooks Brothers, Nic + Zoe (cranberry; matching tank here), Lord & Taylor (red dahlia), Tory Burch ("sorrel melange")
Plus sizes: Halogen® (1x-3x), Loft (XXL), Lands' End (1X-5X), Sejour (0X-3X), Lord & Taylor (0X-3X)
Petite sizes: Loft (XXS-XL), Ann Taylor (XXS-XL), Karen Scott (lucky sizes only), Lord & Taylor (lucky sizes only)