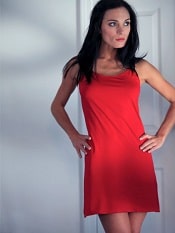 2017 Update: We still stand by this advice on what to wear beneath wrap dresses; if you're looking for more current advice on which are readers' go-to underwear picks, check out our more recent discussion of the best lingerie for office looks. 
What do you wear beneath wrap dresses? Are there camisole-slips? Reader V has an interesting question about what to wear beneath clothes that I think leads us to a great larger question: what are your favorite brands and pieces in slips, camisoles, support garments, pantyhose, and more?
I have a question re slips. I understand that people wear them (even the non-control ones) to even out the lumpy-squishies, make things less sheer, improve drape, etc. But for an unlined v-neck or wrap dress, where one might want help with smoothing out lumps and VPL and sheerness, what if you also want to raise the neckline. Are there camisole-type slips that are designed to be seen (so maybe in white or black, depending on the color of dress; not nude-for-you)? I'm not sure what to do for something like a DVF wrap dress — I want to wear a slip, but don't want to slip up. Thoughts? Suggestions? Thank you!
This is a great question. We've talked about how to keep wrap dresses closed, but not what to wear beneath wrap dresses. While reading her answer I found myself going through the things that I would wear beneath a wrap dress: