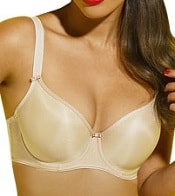 Today, reader J has an interesting question that kind of reminds us of David Lat's first blog, Underneath Their Robes…
I'd love to hear what the gals are wearing under all these fabulous dresses and suits. I love my Spanx hide & sleek full slip for wearing under dresses to keep them from clinging, and have noticed my clothes fit better after I recently went in for a bra fitting and bought some new ones. I'd love to hear about new brands or other tips for pulling the outfit together from underneath it all.
Spanx came up on our Twitter chat this morning, and it strikes us as a great question, and one we'll throw to the readers. So, readers: What bra do you have in multiples, it's so comfortable? What brands of shapewear do you like? Thong, boyshort, or other? Let's talk brands, type, and more! (Tip: if you're talking bra, please post your bra size — there can be a big difference in comfort to someone who's 30G and someone who's 36A.)
* As I'm no longer anonymous, I think we have come to the border of TMI — but I'll chime in in comments. Also, <cough>, here are some links for you, for no particular reason: Smoothing Molded T-Shirt Bra, pictured above, available at Freshpair for $60; Hide and Sleek Hi-Rise Smoother, $68 at Freshpair, On Gossamer's Mesh Hip-G, available for $16 (2 for $30) at Freshpair, and Hip Fit™ Cotton Boyshort, available at Maidenform for $8.
2020 Update: Looking for the most comfortable bras for working from home? These are some of my favorites, as noted in our roundup of the most comfortable bras for working from home: