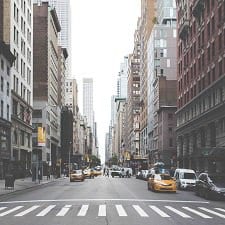 A reader suggested we start a series this summer for what to do in different cities — I DO often notice that there are a lot of comments about different cities, so this seems like a great idea. Let's start with NYC! What's your best advice on where to shop for workwear in NYC? (What about other fun shopping?) What are your favorite restaurants and bars? What hotels have you found to be decent; which attractions are a must for you? Here's a template to use for your response if it's helpful:
Where to stay:
Where to shop:
Where to eat:
Favorite attractions:
Etiquette tips if any:
Safety tips if any:
Other notes:
Readers, you can check out other posts in our City Guide series here. Want to offer advice for YOUR city? Please fill out this form — we'd be so thankful for any advice you have!
For my $.02, here are my answers:
Kat's advice for where to stay in NYC
I don't actually have any advice here — friends and family always stay with us or outside the city! I know a friend always recommends the Cosmopolitan hotel to her visiting family members, but it's just up the street from where she lives in TriBeCa. (On the negative side of things, my husband and I stayed at the Gansevoort for a night for our babymoon and I was really underwhelmed by the experience compared to the price, although the pool was nice.)
Where to Shop for Workwear in NYC
I haven't updated my posts on where to shop for workwear in NYC in a while (ahem), but I still agree in broad strokes with much of what's in there
Lower Fifth Avenue has a good stretch of affordable workwear stores (Banana Republic, Zara, Club Monaco, White House | Black Market — Of Mercer's flagship store isn't very far away on 21st street)
SoHo workwear stores go from the affordable (Uniqlo, Topshop, Mango) to medium (Bloomingdale's, Tibi, Elie Tahari) to expensive (Sportmax, Missoni, TSE, Donna Karan, etc). (You can also book an appointment at the MM.LaFleur showroom near SoHo, or swing by the M.Gemi store.)
I'd also add the shops at Time Warner Center, especially if it's a rainy day — you can find Hugo Boss, LK Bennett, Stuart Weitzman, Cole Haan, Thomas Pink, J.Crew, Montmartre (hit or miss for workwear) and more. Update: as recommended by a reader below, if you're in the area do check out the Carlisle outlet on 55th near 9th — tons of good basics for trousers, skirts, blouses, sweaters and more at crazy sale prices. (When I went I got a $375 blazer for $32.)
For drooling purposes I love the uptown department stores also — Bergdorf Goodman (definitely hit 5F for younger/slightly more affordable stuff), Barney's (especially the jewelry department), and Saks
Where to Eat in NYC
There are a ton of great places to eat — some of my absolute favorite restaurants include Momofuku (long, annoying lines), Ippudo, Gotham Bar & Grill (fancy), Marea (fancy), La Lanterna, Crispo, Momoya, Westville, and Do Hwa. I haven't been to the new location of Pommes Frites yet, but I'm assuming the fries are still epic. If you're vegan, try Souen (two locations downtown) or Candle 79. The drinks at WeatherUp are delicious.
If you're looking for reasonably-priced restaurants that are near popular attractions, here's a list I recently gave to some other friends — I wouldn't say any of these are destination restaurants, but I've found them to have reliably decent food at reasonable prices:
Lincoln Center: The Smith (Broadway/63rd)
Times Square/theater district: the restaurant at The Westin (43rd/8th – good drinks/atmosphere), Turkish Cuisine (46th/9th)
5th/Madison Shopping: Burger Heaven (53rd/5th – decent food, decent prices) or Fred's at Barney's
Grand Central: Pershing Square (just outside), Oyster Bar & Restaurant, Shake Shack (fast food), The Campbell (mostly expensive drinks, but a great spot — recently reopened!), Magnolia Bakery
Union Square: Republic
Kat's Favorite Attractions in NYC
Three favorite things: Sleep No More, drinks at the Mandarin Oriental (killer views of Central Park), and shopping on Fifth Avenue at the crazy expensive jewelry stores (I like to think of them as similar to museums)
Kat's Etiquette Tips for NYC
I often think that in NYC, the highest form of politeness is efficiency, and regular New Yorkers get annoyed easily with people who are NOT efficient. Stand on the right, walk on the left on escalators. Walk on the right side of the street, and if you have to stop to look something up, move out of the way. Don't stand on the subway steps. Don't eat on the subway, take up more than one space, or hang on a pole so that other people can't access it.
Kat's Safety Notes for NYC
NYC is a very safe city, especially in Manhattan, but always stay aware of your surroundings — and if you get a bad feeling in your gut, leave the situation: stop the cab ride, exit the subway car, leave the bar, etc. Don't allow yourself to get isolated — if no one else is on the street or subway platform where you are that's a bad sign. Don't put your handbag or purse on the back of your chair.
Other Notes
Wear comfortable shoes! Plan for a lot of walking if you're here as a visitor.
Readers (particularly either current New Yorkers, recent New Yorkers, or recent visitors to NYC) — what are your best tips for where to eat, stay, and shop in NYC? What's the best advice you've found?
Readers, you can check out other posts in our City Guide series here. Want to offer advice for YOUR city? Please fill out this form — we'd be so thankful for any advice you have!
Picture via Stencil.