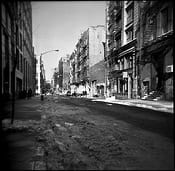 Reader B has some good questions about navigating a New York winter:
I work for a global financial firm and will be heading to Manhattan for a week-long business trip in mid-January out of our NY offices. As a lifelong Southern California Girl, I am totally clueless how to navigate the weather and still look professional?

I've seen your posts on individual aspects (footwear, coats, bring a pashmina, etc) but was hoping you might have an overall take on how to travel for work in a cold climate for the uninitiated, such as:

Will my Hunter wellies + warm socks be enough to get me from the hotel to the office to dinner?
Can I strut down the sidewalks in my kitten heel boots or will they get ruined?
Is my thin wool coat over my suit jacket enough or should I splurge on a down coat? (I noticed Overstock had some good looking coats and since this trip is a regular part of my new position, I don't mind spending money on a few investment items.)
How do most people in NY handle the office to dinner? Do I need to tote any sort of change of clothes with me?
I'm interested to hear what the readers say on this one.  (Pictured: Slush, originally uploaded to Flickr by holly_northrop.) First, I would say this really depends on your trip.  If you're going to be either a) working closely with senior executives from your firm or b) meeting clients, then I would axe the Hunter wellies unless they're a basic black.  They're fine for a commute to and from the office, but I wouldn't want to be sitting around at dinner with VIPs while wearing them.  (I have a sad, sad story about wearing Uggs to dinner with my senior partner and a client, but we shall have to save that for another day.  But really, talk about huge regrets.) [Read more…]