Update: We still stand by this discussion of whether or not patterned tights are appropriate for the office, and we've updated a widget below with a few great picks for great patterned tights available now. You may also want to check out our best advice on what to wear to work when it's cold outside, or all of our discussions on tights for work.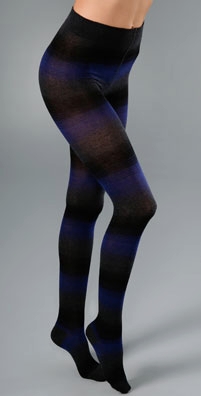 Previously, we asked whether or not patterned tights were appropriate for professional women. The initial results of the poll are interesting — the voters were pretty split in terms of what could or couldn't work.
36% of you said that men's patterns (pinstriped, windowpane) in dark, neutral colors would work
33% of you said ANY pattern would work, but only in dark, neutral colors
23% said solidly colored tights in neutral colors would work, but to avoid patterns
5% of you said any pattern, any color, any day.
Commenters noted that they considered dark gray to be a neutral, as well as a charcoal blue; we completely agree.
We'd also suggest wearing navy tights with a black dress, if you're more of a funky soul — it feels rebellious but still looks conservative.
(Our $.02 on black and navy: as long as it looks like you're doing it on purpose, it's a-ok. It's bad if you look like you got dressed in the dark.)
Patterned Tights We Think Are Appropriate for the Office
Hunting for great patterned tights to wear to work? These are some of our latest favorites as of 2022, but note that if you're looking for higher-end tights you can check Wolford and Falke; if you want something more budget-friendly check Target, Old Navy, and other mall stores…

2022 Update: Here are some cute colored tights for work! If you're looking for something high quality check out Falke's opaque tights in sedate colors; if you want affordability, these $17 Amazon tights have 7700+ great ratings and tons of colors.

What do you think, readers — are patterned tights at the office appropriate?
Updated images via Deposit Photos / pepperbox. 
This article was originally written Nov. 8, 2008, but was substantially updated in 2022 except as otherwise noted.