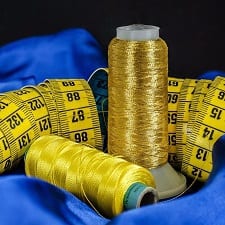 What are the most helpful alterations a tailor can make for professional women? What tailoring alterations really make an impact in looking polished? Reader L wrote in with this question, and I thought it might make an interesting open thread:
I'm 99% sure you did something on this years ago but could be worth reviving a post on what tailors / shoemakers can to do help fit or fix your clothes (i.e. Adding extra belt or shoe strap holes, protective soles, sewing in those bra strap holders, etc).
Great point! We have talked about the most common suiting alterations, as well as the most common tailoring alterations, but not in a while.
I know some people get every single thing tailored; personally I'm probably on the lower end of the spectrum, where it has to be a pretty special item for me to take it to the tailor. I've had pants and jeans shortened, a waist or two taken in, the bustline of an empire dress moved down so it laid better, and added extra strap holes to belts or shoes (although if memory serves a friend just had one of those hole-punchers). (But I'll fully admit that a lot of my pants were hemmed by my mother, especially in my younger years!)
Reader L's note about bra strap holders is a brilliant idea — and I probably should get the sleeves on most of my blazers (and possibly a good winter coat or two) shortened — although in more recent years I've been buying petite blazers, for just that reason. Ah yes, and I've also tried to replace the lining of a winter coat, many moons ago, although that was more of a DIY effort and turned into a huge PITA. Another DIY alteration I've done a few times is to sew pockets closed. (If I buy them sewn closed I often keep them closed!)
As we've noted in the past, a big tip for any tailoring is to make sure that you've washed the item BEFORE you've had it tailored, as certain types of cotton and other washable fabrics can shrink.
What about you, ladies — what are the things you ask your tailor to do most often? Do you have any a-ha moments to share regarding tailoring alterations — things that once you heard about you thought were brilliant ideas (like Reader L's idea for bra strap holders), or "not worth the time and energy" lessons, like me with the coat lining? If anyone has any favorite tailors in your city, please feel free to shout them out in the comments also.
(Ooh, and here's another question — what tailoring alterations for women (or men) have you learned to do yourselves? Anyone have any favorite tutorials to share?)
Pictured: Pixabay.