2017 Update: We still stand by the advice below on suiting alterations for women, but you can also check out our most recent post on tailoring alterations for women!
We've talked a bit about tailoring, but what are the top alterations you should be thinking about with a suit? Today's guest poster, Jean from ExtraPetite, was nice enough to write up her guide to suiting alterations at the tailor, including fit tips, estimated cost, difficulty level, and more. Enjoy! – Kat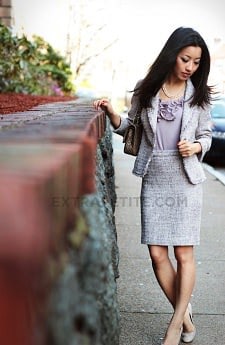 For many professional women, suit shopping can be a daunting task. Our bodies are unique and varied, so it's tough to find a perfect fit right off the racks of mainstream retailers. A good tailor can take that store-bought suit to the next level – from a decent suit, to a power suit that will help you exude confidence and class.
Whether it's a tiny tweak or a major overhaul – I've done it all. I'm here to share my alterations guide with fellow women who are walking around in a less-than perfectly fitting suit.
Blazers
Taking-in Shoulders
Fit tips: Your blazer should be fitted across your shoulders, but not stretched taut. There should be ample room to lift/move your arms around without pulling on the jacket. The shoulder seam of the blazer should also not jut out past your own shoulders. Taking in the shoulders of a jacket is best done by a skilled tailor, preferably one that has worked with custom suiting.
Alteration Cost: $40+
Difficulty level: High
Altering the Sides
Fit tips: If you are curvy, shop for jackets that accommodate your widest point –whether it's your shoulders or chest—and then have areas like the waist tailored down to fit. When fully buttoned and worn over a long sleeve shirt, a blazer should graze your torso. It should not be snug, and the front buttons should show no signs of pulling. Jackets typically should not be taken-in or let out more than 1 dress size (if there is even enough fabric at the seams), as the garment proportions can be thrown off.
Alteration Cost: $25+
Difficulty level: Medium.
Altering Blazer Length
Fit tips: This is a difficult alteration that I try to avoid while shopping for blazers. Anything longer than the hipbones may risk truncating your legs. Shorter-legged women can benefit from cropped length blazers. Longer-length "boyfriend" blazers that hit in the upper thigh area are chic over jeans and dresses, but less appropriate for professional environments.
Alteration Cost: $40+, depends on lining and complexity.
Difficulty level: High. My tailors flat-out refused to alter the length of my blazers.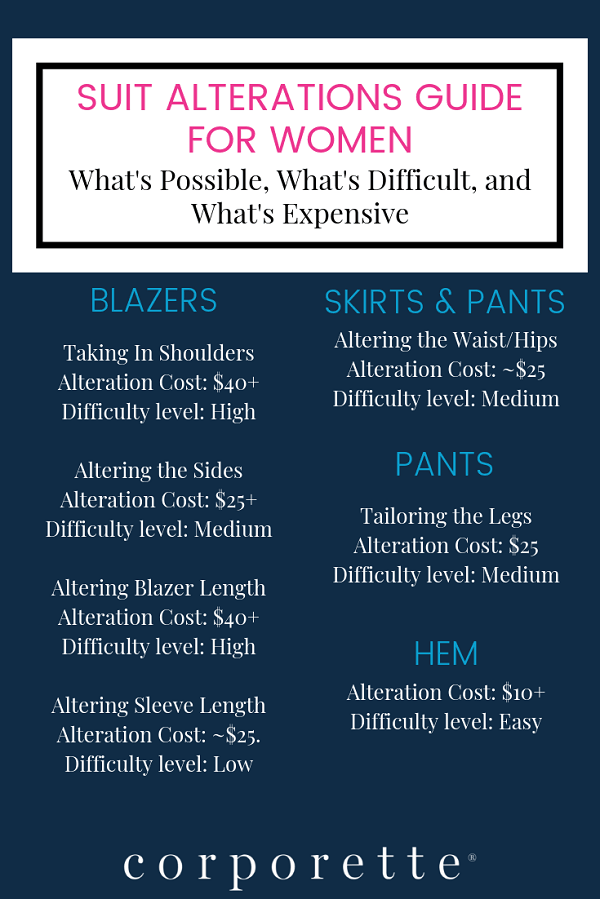 Altering Sleeve Length
Fit tips: My personal preference for sleeve length is an inch past the wrist bone when arms are resting naturally. When getting fitted at the tailors, raise your arms to chest level to make sure the new length won't be too short.
Alteration Cost: ~$25.
Difficulty level: Low, unless there are sleeve vents and/or button details.
Skirts & Pants
Altering the Waist/Hips
Fit tips – Skirts: For women who have equally proportioned torso and legs, skirts tend to look best starting at the natural waist (I use my belly button as a reference). For women with shorter torsos, the skirt can sit lower on the hips to balance out the proportions. For women with longer torsos, a higher-waisted skirt may be more flattering.
Fit tips – Pants: If only tiny tweaks are needed, the tailor can make the alterations from the back center seam. If more than half an inch needs to be altered, then the tailor should work from both sides to preserve the proportions of the pants.
Alteration Cost: ~$25
Difficulty level: Medium, dependent on details such as side pockets, a side zipper, or seams and pleats.
Pants – Tailoring the Legs
Fit tips: Shop for bottoms that accommodate the width of your thighs, and get the waist taken in, if necessary. A common issue I observe on women are pants that are too snug across the crotch and thighs, which causes pulling and creases. If you are petite on the bottom and tend to swim in your pants, have a tailor slim the legs and taper them to your curves.
Alteration Cost: $25
Difficulty level: Medium, dependent on details such as side pockets, a side zipper, or seams and pleats.
Hem
Fit tips – Skirts: If your thighs are longer than your calves, above-the-knee may be more flattering. If you are long-calved, then you can probably pull off at or below-the-knee skirts.
Fit tips – Pants: Bring your favorite heels to the tailors. With shoes on, pant length should be approximately an inch from the ground. Too long will drag, and too short will break the lengthening effect of long pants.
Alteration Cost: $10+, more if there's lining.
Difficulty level: Easy
Check out more of Jean's thoughts on alterations on her blog, ExtraPetite!
Looking for some great shoes to go with your petite workwear? These are some of the Hall of Famers styles and brands offering narrow widths and smaller sizes…
Comfortable Heels in Narrow Widths & Small Sizes
In our last roundup of classic black heels for business attire, we rounded up some pumps that came in extended widths, including:
Extended widths (AA, C, W): Target (M/W), Vionic (MW), Rockport (NMW), Ferragamo (2A, B, C), Trotters (M,W, WW), Sam Edelman (NMW), Bella Vita (AA-EE), LifeStride (AA-E), Naturalizer (N-WW),
Extended sizes (4-13): Target (5-12), Calvin Klein (4-13), Ferragamo (4-11),
Some Comfortable Flats in Narrow Widths & Small Sizes
In our last roundup of comfortable flats for work, we rounded up some flats that came in extended width sizes…
Readers, what alterations do you have your tailors make? Any fun stories (of success or disaster) to share?
Interested in writing something similar for Corporette? Check out our guest posting guidelines.
Social media image credit: Fotolia / 2dmolier.