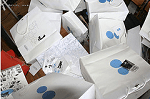 2016 Update: Check out our newest favorite online shopping apps!
How do you get the best deals online, especially for women's clothes, shoes, and bags? We've talked about all of my favorite ways to find deals individually (as well as my best internet shopping tips in a larger scale), but I thought it might be helpful to have one post rounding up the different ways I use these services. Especially since new tools are coming on the market every day (including Lyst, which lets you follow different influencers to see what they're buying and recommending) and Wantworthy, which lets you easily keep a "shopping list" of items you'd like, whether to create a registry or just a list for yourself), it helps to go over some of the oldies but goodies. (Pictured: colette shopping bag, originally uploaded to Flickr by Karl Hab.)
– Shopping Notes. I use this one to stalk particular items. Seen a great dress at Bloomingdale's for $300, but would only be interested if the price falls to $150? Click the "Shopping Notes" bookmarklet button, and you can add it to your Shopping Notes list, and it will email you if and when the item drops to that price. There's no guaranteeing your size will be left, though (or that it will hit that price). You can just say, "tell me if it goes on sale," but I find that I better enforce my budget if I give it a specific price.
– Shop It To Me. I think of this one as a great way to find "lucky sizes," as well as general sales — I eagerly look over the email I get every day and peruse the selection of clothes, bags, and shoes on sale. I've told it my sizes, and I've set it to only show me prices 60% off and more, so if I don't get to the email in a day or two then most of the good stuff is gone. They also have a web-based tool where you can peruse EVERYTHING in your size — I might use it if I were looking for something specific (a cocktail dress 50% off and under $200, say). The email lists pieces by store, so if there are a ton of items then I know that store suddenly added a lot of markdowns and I should get over and check it out.
– ShopStyle.  In addition to often using this tool to find TPS or Coffee Break suggestions, I use this personally when I want to stalk a brand. Let's say you generally like Kate Spade bags, and you don't care if you buy them at Nordstrom, Bloomingdale's, or Kate Spade — you just want to  know when they go on sale. You can set up a "sale alert" for all "shoulder bags from Kate Spade," or all "boots from Frye. "  It isn't store specific, so it tells you whenever ANYONE has a sale — but it also doesn't guarantee that you'll like the piece, what the price is, or what size will be left. I've gotten some great deals through here, such as the time we saw my husband's favorite Ray Ban sunglasses marked from $160 to $25 at Dillard's. (Weird color, but for $25, I'm still calling it a win.)  On my iPad it even sends me "push notifications" so I can click over and instantly see what's on sale.
– RetailMeNot.  I still head over here to see if I can find better sale codes before I purchase something online. :)
I haven't gotten into the other services, to be honest — I'm at a point where I either buy something immediately because I need it and like the price, or throw it on my "Shopping Notes" list to consider if the price changes. Very very rarely do I suffer from that haunting "I should have bought that when I had the chance!" feeling, but it happens — the great Kate Spade clutch I didn't buy when it hit $125, the purple Stuart Weitzman pumps I did manage to snap up yesterday at RueLaLa after not purchasing them a week or so ago.
Readers, which online shopping services do you use? Have you found any new ones lately?