2016 Update: Check out our latest discussion of our favorite online shopping apps!
If you normally consider yourself "crazy busy," the holidays can change the environment to crazy with a capital K.  There are presents to be bought for seemingly everyone, and no time to troll the stores looking for that perfect gift.  (Even with the later holiday store hours!)  The answer for those working women confined to the computer for most waking hours:  use ShopStyle.com, which not only does a complete survey of women's clothing, but also men's clothing, kids' clothing, and home goods.
Here's how it works:  Let's say your mother is looking for the perfect new purple v-neck sweater.  In the search box, type "purple."  Then, using the drop-down menu, select "Sweaters" and then "V-neck" (we've highlighted them in blue on our screenshot, below — you can click the picture for a larger view).  Voila — 111 options of v-neck purple sweaters are available right now.  You can further refine your choices by store (in case you only want to get your mother something she can return to a local store) or by sale percentage ('tis the season of the sale, after all).  You can also refine your choice by price, so you don't have to drool over $500 sweaters.  (We've also highlighted that section in blue, as well.)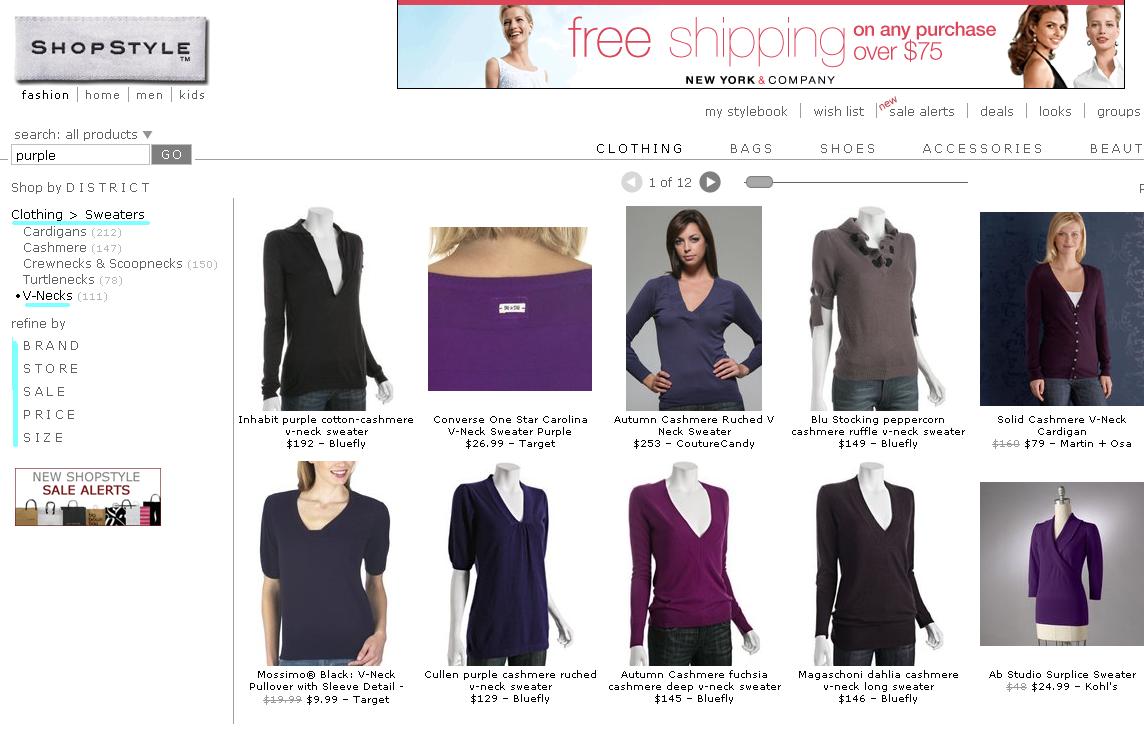 Once you get your selection refined, you can see more detail on each sweater by hovering over the sweater with your mouse. It will tell you which sizes are still available, and will also let you set up a "price alert" on the off chance that item goes on sale.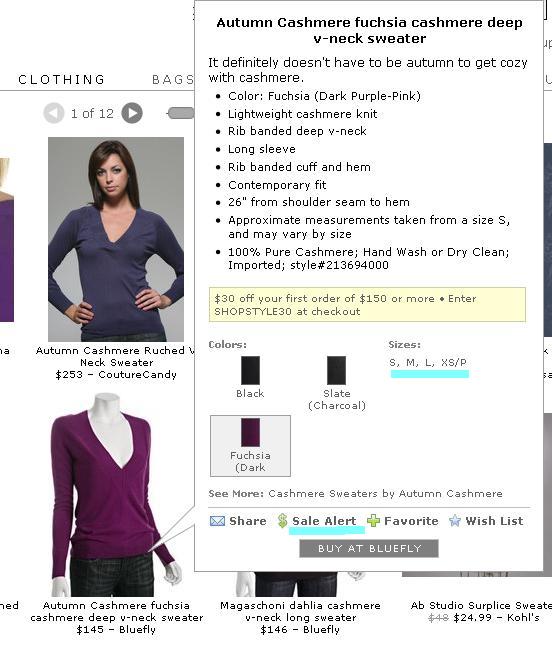 The result is that you can quickly run a search for items you know your loved ones are looking for — doing a very thorough survey of what's available right now — and all on your lunch hour.  Handy!