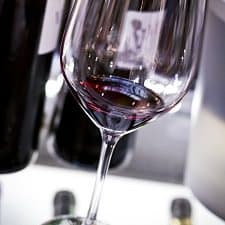 2018 Update: We still think this is a fascinating discussion on what purchases are worth the splurge, and where to save money — but you may also want to check out our more recent discussion where we asked the readers: what are you a snob about?
Something that I've wanted to do for a while is talk about what's worth the "splurge" (on a big or small level) versus what's NOT worth the splurge. For example: I always joke that life is too short for cheap liquor and cheap toilet paper. On the flip side, I rarely notice the difference with a "fine" wine (ahem), and "good" coffee is wasted on me also — Folgers is just fine for my one cup a day. At the grocery store, I often buy store brands (or whatever's cheapest).
On a day to day level, my cleaning lady (who now comes once a fortnight) is non-negotiable and an absolute essential (we love you Olga!), and I will give up other splurges (such as frequent dinners out) to keep room for her in the budget. (Pictured:  Fossil 'Key-Per' Wristlet, was $40, now $29.98.)
On a grander level, I think education is worth the splurge if other factors align; in other words, the more expensive program may be worth it if it offers enhanced networking capabilities / alumni base / career services / etc. In terms of housing, I've always prioritized living space over location or amenities (e.g., I've never lived in a glitzy apartment building in a super chic area but rather the largest apartment I could get in the safest area near where I wanted to live).
As I've mentioned before, in terms of fashion I tend to splurge on accessories (bags, jewelry) and less on clothing. Still, I have noticed huge differences in, say, a sweater marketed as a $100 sweater versus a sweater marketed as a $500 sweater (which I may have paid $100 for).
Yesterday we talked about travel splurges, with many people (me included) noting that you should travel when you can. I wonder, though: when is it worth it to get the "bargain" deal for travel — taking your trip in the off season or staying somewhere not as fashionable — if you're going for the experience?
There are no right answers here, obviously; I just thought it might be an interesting discussion. Readers, where do you splurge and where do you save? What purchases are worth the splurge — and what aren't?