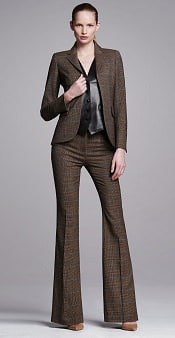 For busy working women, the suit is often the easiest outfit to throw on in the morning. In general, this feature is not about interview suits for women, which should be as classic and basic as you get — instead, this feature is about the slightly different suit that is fashionable, yet professional.
I am loving the return to flared, long pants with suits — we're totally in my comfort zone here. (Check out our guide to hems if you're unsure where they should fall — basically you want an inch or two of heel showing in the back, but you want it to graze the vamp of your foot.) This houndstooth version from Akris — styled with a leather vest, ha-cha-cha — looks ridiculously cool. Love the menswear print, the sleekness of the flattering blazer and pants, and, hey, even the popped collar. Lovely. The jacket (Akris Cashmere-Blend Glen Plaid Jacket) is $3,590, and the flared pants (Akris Farrah Glen Plaid Flare Pants) are $995. (They also have a pair of straight-leg, slightly cropped pants if that's more in your wheelhouse.)
For some light brown Glen plaid that costs a bit less, here's a pair of suiting pants (coordinating jacket no longer available, alas), and here's a jacket (the matching, um, shorts are sold out). And here's a jacket and skirt — jacket available in regular and petite sizes up to 18, and skirt in regular sizes up to 18.