2017 Update: We still stand by this advice on how to wear a blazer with something other than a suit, but you may also want to check out our more recent discussion about how to buy a blazer to keep at the office.
Throwing on a suit in the morning is one thing — but how do you wear a blazer with a non-suit outfit? What is the perfect black blazer to keep at the office? Reader B wonders this question, which comes up a lot…
I'm a 30-year-old business professional and desperately need some help/advice on suit jackets, and I can't seem to find what I'm looking for in the blog.

How do I find a black jacket to wear with all the different types of black pants in my wardrobe? I really want to look a bii more professional on certain occasions in the office, but I'm not sure what type of jacket is appropriate to coordinate with basic black work slacks. All the blacks slacks are different fabrics and different shades.

How can I look a bit more professional without having to buy a coordinated suit? Is there a certain style or fabric I should be looking for? Is there another type of garment that would work? (My entire wardrobe is black and gray, so it is extremely easy for me to get ready in the morning.)
This is a great question. Here are some of my own guidelines for wearing a blazer with something other than a suit:
1. The primary rule: if you are not wearing a suit, you should not look as though you think you are wearing a suit. To that end, the jacket should either be
a. in a different color than the rest of your outfit (e.g., black top, black pants, gray jacket)
b. or a substantially different fabric (e.g., four-season wool trousers, silk blouse, tweed jacket).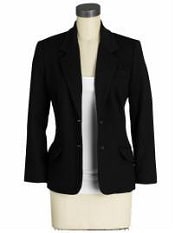 2. Blazers that are sold as stand-alone pieces are usually the best for throwing on top of outfits. For example, the blazer pictured at the top of this post (Gap Womens Petite Classic Blazer, available at Gap for $98) or the one at right (Elizabeth and James Shrunken Elizabeth Blazer, available at Piperlime for $398).
3. Some suits can be broken up — but they are not usually your basic interview suits. The suits we feature on Wednesdays usually have the best potential for wearing them as separates — a seersucker skirt worn by itself with a white twinset, and then the seersucker blazer thrown on top of a white blouse and khaki pants can be two outfits. If you do break up a suit to wear it as separates, be sure that you dryclean all of the pieces together.
I'm curious to hear what the readers' rules are about this — and as an aside for Reader B, I would encourage her to pick a few colorful blazers to keep at the office if her entire wardrobe is black and gray.  A maroon corduroy blazer for fall — perhaps a light blue blazer for right now — perhaps even a white blazer or an animal print.  It will add a lot of interest to your outfits!
Ladies, speak up:  what kind of blazers do you keep at the office to throw on top of outfits?  What are YOUR tips on how to wear a blazer with something other than a suit? Which particular styles of blazers do you wear as separates?