Sure, we all know what basics professional women are supposed to have in their closets, but if you're buying one for the first time or replacing one you've worn into the ground, it can be a pain to find exactly the right incarnation in stores. In "The Hunt," we search the stores for a basic item that every woman should have.
2020 Update: It's fun to see what shrunken blazers looked like in 2010, but you may want to check out our more recent roundup of the best sweater jackets for the office!
Pictured above, great sweater jackets for the office as of Nov. 2021: navy / black / gray / cropped black / beige (not pictured but also)
One of my favorite wardrobe staples is the shrunken blazer.  It can be a great way to keep an outfit sleek (such as by adding it to a sheath dress) or to make a more casual outfit, more professional (by adding it on top of, say, a hip-length tunic blouse) — it's also a great look with most jeans. 
Expensive ones are easy to find (such as, say, the one pictured above (Elizabeth and James 'Elizabeth' Shrunken Ponte Knit Blazer, available at Nordstrom for $395) — but for today's "Hunt," I thought I'd look for ones under $150… If you've recently purchased a shrunken blazer, please let us know in comments!
This post contains affiliate links and Corporette® may earn commissions for purchases made through links in this post. For more details see here. Thank you so much for your support!
The below content concerns products that are probably out of stock now…
The cheapest item on the list is this "vintage" wool blazer from Urban Outfitters. Love the blue for the pop of color, but there's also a more sedate army green. At $48 it's not a bad way to try the trend, but because it's wool it probably won't be as comfortable or as stretchy as many of the other ones featured here. Urban Renewal Vintage Wool Blazer
Next up, this ponte knit peplum jacket from Spiegel. While I love the houndstooth pattern, I wish it came in solids. It's $59 at Spiegel (sizes 2-18). Fitted Ponté-Knit Houndstooth Peplum Jacket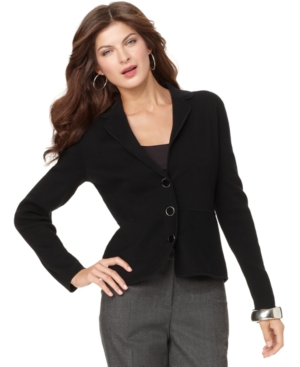 This sweater blazer from Jones New York also fits the bill, particularly if you prefer a more relaxed fit to your "shrunken" sweater. The seam at the waist is a nice touch, also. It's $69.98 at Macy's (sizes S-XL). Jones New York Signature Jacket, Three Button Blazer
This ponte blazer from Aqua brings comes with some interesting details reminiscent of menswear, most notably the shawl collar. I'm also a fan of the interesting paneling on the back. It's $98 at Bloomingdale's (sizes S-L). Aqua Ponte Blazer
LOVE the unusual details on this "Sun Spiral Jacket" from Anthropologie — the pleats on the neckline and pocket, as well as the ornamental sun spiral on the front — gorgeous. Also love that it's a very wearable ivory — perhaps it's just me, but I'd wear it January through August (and then stop, lest people think you're still wearing summer clothes). It's $148 at Anthropologie (sizes 0-12). Sun Spiral Jacket
Like this feature? Check out other recent installments!