Sure, we all know what basics professional women are supposed to have in their closets, but if you're buying one for the first time or replacing one you've worn into the ground, it can be a pain to find exactly the right incarnation in stores. In "The Hunt," we search the stores for a basic item that every woman should have.
Well, we were surprised when we started hunting for twinsets for this feature. To us, twinsets are a great summer basic — they're the perfect solution for a deathly hot commute (you just wear the tank or tee and throw the sweater in your bag or over your shoulders) and then when you get to the office and the uber-airconditioning, you can be nice and warm in your cardigan. 
Sure, we get a lot of use out of them as separate pieces — we wear the sweater top on top of white shirts, or we wear the cardigan by itself over dresses. Still, we like to buy the set as a whole — it's a better addition to the closet that way; it ties your wardrobe together and extends it and gives you another option for a work-appropriate outfit. Also: great for travel.
So we were surprised at how hard it was to find a collection of twinsets for this week's The Hunt. Furthermore, there was a huge price gap — anything that had the least bit detailing was going for $1000 plus, with everything else just being a basic. Very interesting! Please tell us in comments — do you still wear sweater sets? Would you buy them if they were easier to find in stores?
This post contains affiliate links and Corporette® may earn commissions for purchases made through links in this post. For more details see here. Thank you so much for your support!

The below content may concern products that are sold out, unfortunately…
This is a great cashmere-silk (70/30) pointelle cardigan and set, on sale at Brooks Brothers for $58 (shell) and $76 (cardigan). In white, black, and pink.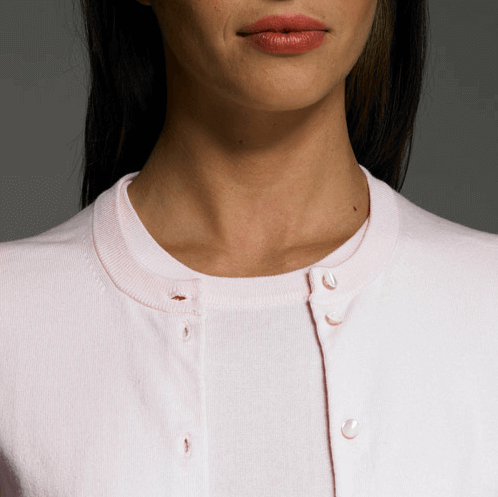 J.Crew has the cotton/lycra blended "Jackie" cardigan in a huge variety of colors. The cardigan is $62 and the shell is $42.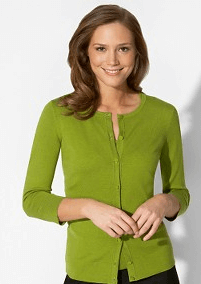 Ann Taylor has some fun colors available with this sweater, which has enameled buttons. Cardigan is $68, shell is $42. Full set only available in black, sea jade, and parrot (pictured).
Now this — this is absolutely gorgeous. At the higher end of the spectrum, we have this gorgeous sweater set by Agnora, available at Vivre for $1395. We wish we had a spare $1400 lying around to buy this baby (but, sigh, it's already earmarked for our next big purse purchase.)
Also at the higher end, this one by St. John's takes the cake — how gorgeous and sexy yet demure and businesslike. Available from Nieman Marcus for $1500. Only available in camel.