What makes a dress professional enough to be the "it" business dress?  How do you find it?  I'm so so thrilled to introduce today's guest poster, my friend Yuli Ziv.  Not only is she the founder of Style Coalition (a network of fashion bloggers that includes Corporette) but she negotiated the deal between Elle and SC to create the ad network that Corporette uses.  Neither of these is her first entrepreneurial undertaking — she also received angel funding to create the first crowd-sourced fashion blog, My It Things.  Oh, and if that wasn't enough, she also recently published a book: Fashion 2.0: Blogging Your Way to The Front Row.  She's a huge source of inspiration to me, and she has some wicked advice on the perfect business dress — so enjoy! – Kat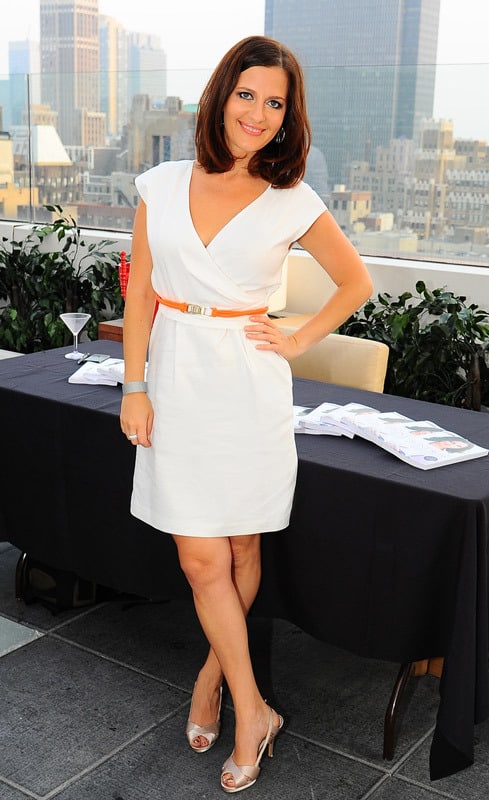 During the first few years as an entrepreneur I tried so hard to fit in the male dominated environment. Whether it was a meeting with a VC or a tech industry networking event – pant suits were my safe choice, decorated only with some jewelry at the most. I wanted to be taken seriously so badly, I chose to forgo my own personality and style – ouch! Luckily, pretty quickly I realized this strategy lead me nowhere – the problem wasn't my clothes. I was, in fact very different from these people, which isn't necessarily a bad thing. Stylishly shining in a room of gray suits is a huge advantage that at some point I learned to use to my benefits. (You can get a similar dress to Yuli's at DKNY (Three Quarter Sleeve V-Neck Wrap Dress) for $325.)
This is when I discovered the fashionable business dresses, and since then I collected quite a few. It took some trial and error to find not only what's appropriate and works for my figure, but also what makes me feel confident. These days I'm often invited to speak in public (last time was in front of 1,000 people at Lincoln Center in NYC), and I find the right dress helps me present myself in a confident way.
So what makes a dress an appropriate business dress? A garment that makes you feel stylish, professional, confident, beautiful and smart is hard to find. I developed my own set of rules that guides me through that process:
Fit. A business dress has to fit you impeccably. There is no room for too tight or too loose, it has to be right. You can't just slap a belt on it and hope it will fix the fit problem. It has to hug the body in a proper way, and have a room (1-2 inches) to breathe – this will avoid any undergarment from showing. I also find defining waist helps to create a more structured, well put together look.
Color. No matter how progressive your work place is, a light pink business dress doesn't project much power. It has something to do with the colors and our perception or the meaning we apply to it. Primary colors project confidence and look sharp on anyone, so stick to them when choosing a business dress. Patterns should be used in moderation. While they definitely add a sense of individuality, remember that they might distract your opponent in a business meeting.
Fabric. I think fabric is the most crucial part of the proper business dress. It has to have a certain thickness to it to avoid few potential problems, such as sheerness, showing undergarments or simply your body imperfections. Thick fabric also doesn't wrinkle easily, and there is nothing that ruins the professional image more than wrinkled clothes. So even if you have been sitting at that boardroom for 5 hours, a thick fabric won't catch the wrinkles.
(Above: Here's one great example of a perfect business dress — Calvin Klein Dress, Cap Sleeve Belted Metallic Shirtdress Sheath
, available at Macy's for $83 (was $128).)
Texture. Besides being thick and properly fitted, I find the texture of the dress being very important to project quality and sophistication. Is there a shine to it? Or perhaps it's made of a soft wool blend? Perhaps there is a subtle pattern which is part of the fabric itself? The material is sometimes all it takes to make a dress stand out.
Underlining. All of the fit and fabric issues could be solved in most cases with the proper underlining. It also prevents the dress from stretching too much, and keeps it in the original shape. I find it disappointing when a nice dress isn't lined properly. It seems some designers and especially budget retailers tend to skip that step these days, so watch out not only for the outside, but for the inside of the dress.
Coverage. Needless to say a business dress has to cover much more than an evening dress. Depending on the industry, you can show off legs or bare arms. My personal favorite is just above the knee length and cap sleeve. I find it most flattering and providing just the right coverage.
Details. While there are plenty of options for the basic business dresses, I find every dress needs to have something special about it in order to showcase your individuality and style. Whether it's draping, pockets or other embellishment – look for sophisticated details in every piece.
What are your rules when it comes to business dresses and which one is your favorite?
Interested in writing something similar for Corporette? Check out our guest posting guidelines.