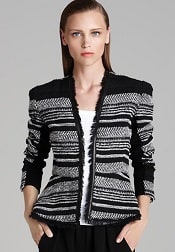 2017 Update: We still think the tweed blazers featured here are great for work outfits — but if you're looking for in-stock items, you may want to check out our more recent roundup of the best winter blazers to wear to work.
Sure, we all know what basics professional women are supposed to have in their closets, but if you're buying one for the first time or replacing one you've worn into the ground, it can be a pain to find exactly the right incarnation in stores. In "The Hunt," we search the stores for a basic item that every woman should have.
As the weather gets colder, I thought I'd poke around for some fresh interpretations of tweed blazers. Ladies, have you bought a tweed blazer recently? Do you have one from previous years that you can't wait to wear again?
Granted, this one doesn't look that fresh — it just looks like a basic black blazer. But up close, it's dotted with flecks of bright color: blues, oranges, yellows — love. It also has faux leather elbow patches, which are always amazing. Unfortunately the matching skirt is Very Short (17″!), but on the off chance that will work for some petite lady out there, I thought I'd mention. The blazer was $118, but with today's code ONEDAY you can take 30% off, bringing it down to $82. OBR Donegal Tweed Jacket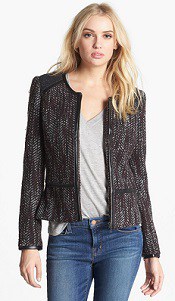 There's a lot to like here — the faux leather trim, the peplum flounce details, the vertical purple and black pattern, and the price: it's only $118 at Nordstrom (sizes XXS-L).  Hinge Faux Leather Trim Tweed Jacket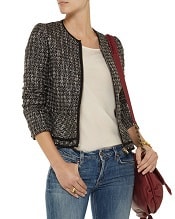 I'm not quite sure why The Outnet couldn't get a good shot of the model wearing this shrunken tweed blazer by RED Valentino, but from what I can see it looks promising.  There are very limited sizes left, though, which makes sense considering the sale: it was $770 but is now marked to $274.97. RED Valentino Metallic cotton-blend tweed jacket
I love the hip look of this Bailey 44 jacket, although it probably is better for a casual look.  (It kind of reminds me of this terrycloth jacket from Gap, which flew off the shelves if I recall correctly.)  The black and white speckled tweed, the quilted leather, the asymmetric zip, the moto silhouette — love it all.  It's $330 at Bloomingdale's. Bailey 44 Jacket – Techno Junkie Tweed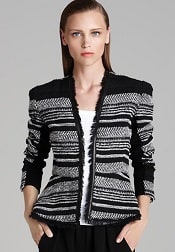 This Rebecca Taylor jacket boasts a fairly aggressive pattern, but I really like it for a fashion forward woman.  I like the fringe, the thick black stripes, and the way the pattern changes on the peplum.  Lovely.  This one also has a matching skirt, but in addition to being A Lot Of Look, the skirt is Very Short (15″!). It's $495 at Bloomingdale's. Rebecca Taylor Jacket – Stripe Tweed Peplum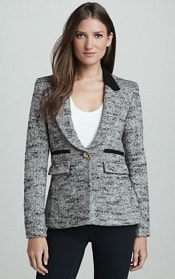 This one's almost boring by comparison!  Still, I love the fitted silhouette from Smythe, as well as the other details such as the low scooped lapels, the faux slit pockets, and the contrasting black.  The jacket is $595 at Bergdorf Goodman. Smythe Contrast-Collar Tweed Blazer
Like this feature? Check out other recent installments!