Sure, we all know what wardrobe essentials for work professional women are supposed to have in their closets, but if you're buying one for the first time or replacing one you've worn into the ground, it can be a pain to find exactly the right incarnation in stores. In "The Hunt," we search the stores for a basic item that every woman should have.
Around this time of year, we typically feature stylish velvet blazers among our blazer picks for the best winter blazers to wear to work (including a beautiful blue one from Self Portrait that Kat shared a couple of weeks ago). Many are festive enough for weekday holiday office parties but still professional for workday wear — and versatile enough to pair with jeans on the weekends.
We're bringing you some more recommendations today, including some of our favorite velvet blazers on the market right now — as well as (in our roundup) a few options for tweed jackets if you want a more sedate alternative to velvet. Readers, how do you change up your blazers for work in wintertime? Do you like to wear them as toppers to sexier looks on the weekend? Do you like to wear them to "business attire" events around this time of year such as networking events through alumni or professional organizations, or even holiday office parties held on workdays?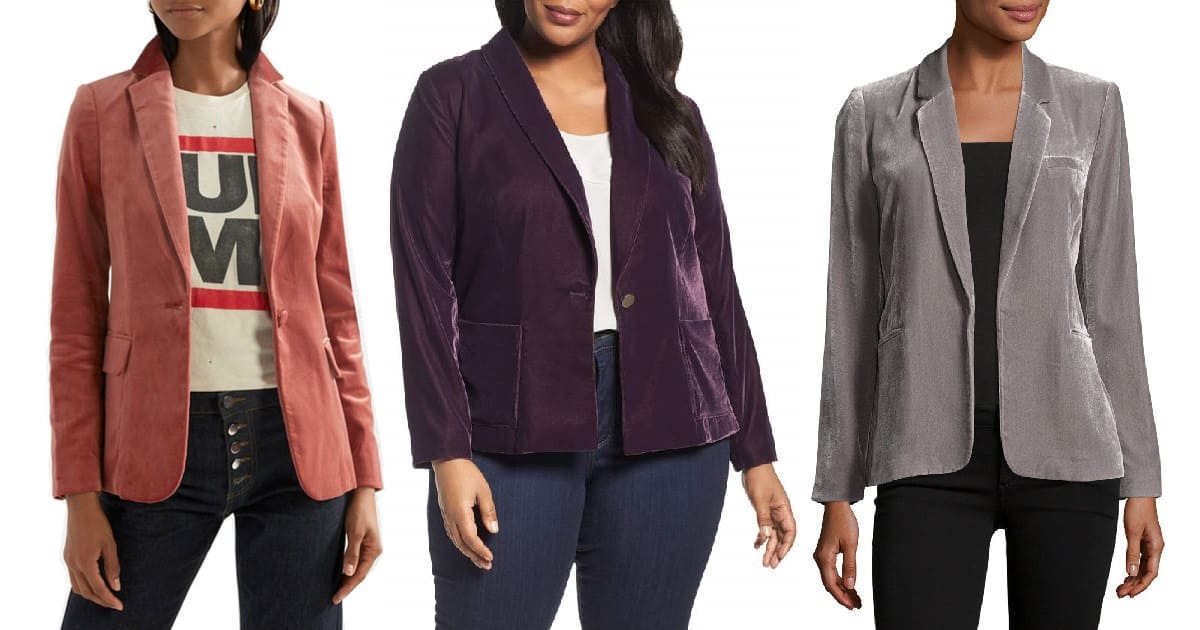 Hunting for festive blazers for 2023? Stay tuned for a bigger roundup, but on the affordable side we like J.Crew Factory and Loft — and this Eliza J one is almost always in stock. On the more expensive side, check Reiss, Paige, and L'Agence.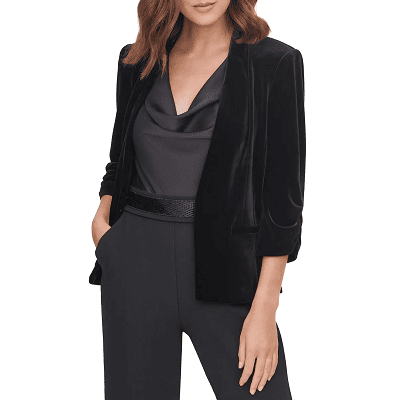 Looking for some of our earlier roundups? Psst: Here are our 2016, 2015, 2014, 2013, and 2012 roundups for winter blazers.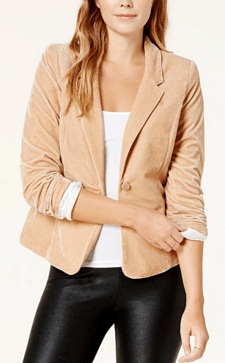 If you don't think you're going to be wearing a velvet blazer very often and you're looking for a really affordable, basic option, this one from Kensie (exclusive to Macy's) may fit the bill. It's $39.99 (regularly $99.99) during the Cyber Week sale (which ends today), and sizes and colors are going quickly. It's not exactly a cropped style, but it looks a bit short on the model — however, reviewers don't seem to be saying it's too short, or that it runs small. Note that it's hand washable (it's polyester/spandex), whereas the rest we're featuring today are dry clean or dry clean only. This blazer comes in beige and dusty rose (the black and red recently sold out, alas) in sizes XS–XL. (For a similarly affordable, basic blazer that comes in plus sizes, check out this blazer from Tahari ASL, which is on sale and comes in three colors.) Velvet Blazer
This plus-sized velvet blazer by Sejour is newly marked down to $99 and looks like it's a nice, rich color of purple — always great if you like jewel tones! If you're hunting for a plus-size velvet blazer, do be sure to check out our fuller roundup at top. If purple appeals to you, here's a very nice $54 option at Macy's. Pictured: Velvet Blazer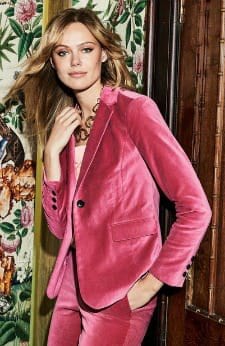 The most colorful of any of the blazers we're featuring today — available in the pictured bright pink as well as a very bold and colorful floral print (plus black and navy) — is Boden's Emilia Blazer. (In Kat's post on how to build a work wardrobe at Boden, she mentioned this style, which is one of the brand's more popular ones and also has a ponte version). The blazer is mostly made from cotton but has 2% elastane for stretch. Reviewers say it's true to size and well-made — and the floral seem to be a big hit. It's regularly priced at $190 but is currently on sale for $152, and it comes in sizes 2–16. The black still has all sizes in stock; the pink has the fewest. (And if you want to go all out, there are matching velvet pants as well.) Velvet Emilia Blazer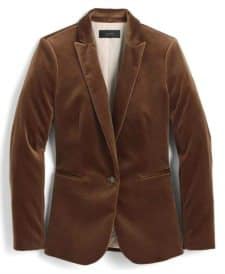 The Parke blazer from J.Crew is getting lots of 5-star reviews, and one thing that customers compliment is the thick, plush velvet. Nice! I also like the extra-pointy lapels and the striped lining. The blazer was originally available in four colors, but unfortunately Nordstrom now only has dark chestnut (pictured) and black left in stock. On J.Crew's site there are a few sizes left of "bright zinnia," a very bold orange-y red, as well as dark chestnut and black (with both bright zinnia and dark chestnut also in petites). It's $168 at both J.Crew and Nordstrom. Parke Velvet Blazer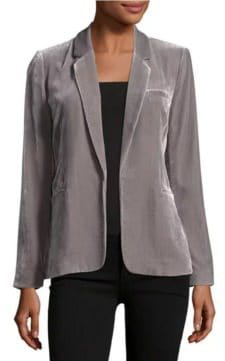 I love the silvery shade of gray of this velvet blazer from Joie (which is only available at Neiman Marcus). Gray isn't the most common of colors for velvet blazers, and this one almost has a shimmery look to it (not shiny), as it's made from rayon and silk. (In fact, it's the only velvet blazer we're featuring today that has silk, hence the higher price.) It has real pockets, and I also like the fitted shape and the tailoring. (The description notes that the blazer nips in at the waist, which you can tell even seeing it worn unbuttoned here.) It has single-button cuffs, but they aren't visible in the images online. The blazer is $428 at Neiman Marcus and is available in sizes 0–12. (It's more silvery and less nipped, but note that H&M has a similar option for $35.) Pictured: Mehira Velvet Blazer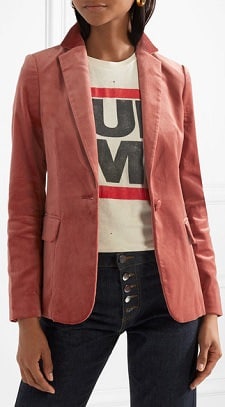 Net-a-Porter is always a good source to check for drool-worthy blazers, and this one from Frame looks great. It comes in several colors, including black and leopard — and the dusky rose pictured here has a pair of matching flared cropped pants. I think the styling here is fun — it's a great way to take the winter blazer look into the weekend. The blazer is $575 (also in some colors at Nordstrom). CLASSIC COTTON-BLEND VELVET BLAZER – ORANGE
This post contains affiliate links and Corporette® may earn commissions for purchases made through links in this post. For more details see here. Thank you so much for your support! Like this feature? Check out other recent installments!