I've had my share of wardrobe malfunctions at the office — as I'm sure all professional women have! Today's guest poster, Kai Falkenberg, shares one of her personal doozies. (Kai was also good enough to share her favorite wedges for Fall 2011 — the perfect commuting shoes.) Thank you, Kai! – Kat. (Photo Credit: linuswong.)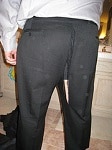 As the newsroom lawyer for Forbes magazine, I try to dress like the editors and journalists that I advise. "They're more likely to accept your advice if they think you're one of them." That's what I was told by a panel of entertainment lawyers years ago who also said to leave the law school diplomas at home when you move in house. But there's quite a range of attire among the editorial team here at Forbes. A good number of them wear jackets and ties, but jeans are common too and even Birkenstocks. Some are known for their unusual wardrobe choices. Our letters editor regularly shows off his collection of Aloha shirts and his bold printed pants which he buys from this aptly named site. A copy editor occasionally wears fuzzy pink bunny ears – even while working out in the office gym – and not on Halloween. That said, the majority of folk in the newsroom stick to tailored business casual and generally I try to choose clothes that put me squarely in that group.
Occasionally, however, I push the envelope and recently that led to what I'll call euphemistically "an undesirable outcome." When it comes to dresses I typically wear shifts that are tailored and structured. But on a shopping outing a few months ago, I spied a loose fitting silk dress at Zara that satisfied two of my obsessions: python prints and bargains. Bargain hunting is, of course, a perennial obsession but the python thing has been with me for a while as well. I'm embarrassed to say how many snakeskin print items I actually own though I will reveal that even my new iPhone has fallen victim to the obsession. So I scooped up the dress for $68 and wore it to work the next week.
I was reviewing a story with two male editors when one, standing behind me, signaled me to come closer and pointed at my dress. I thought I was about to receive a compliment. Instead he whispered, "Your dress is split down the back. I mean all the way down. Just thought you'd like to know." "Oh," I said and retreated to my office, speedily. Fortunately, I had a spare jacket hanging on my door – for those unexpected court appearances that never actually occur. Luckily, the jacket was long enough to cover my rear end and I made it through the day without flashing anyone else. The dress is in the dumpster now but a lesson was certainly learned. You get what you pay for. There's a reason that dresses with lining cost more – and now I admit, it's actually worth it.
Has something like this happened to anyone else at work? Please do share so that I'm not the only one baring all…
(Kat: For my $.02, I remember buying my first DvF dress, which I'd seen Lorelai wear on Gilmore Girls. Great dress, and Lorelai didn't need a camisole with it. I'm proudly strutting around the office in it and go to my first meeting of the day, fortunately with two women lawyers. As soon as I look down at my notepad, there it is: my entire bra, peeking out from beneath my dress. FUN. At my first opportunity I rushed back to my office for a black scarf that I kept in the office, tucking it into the dress like a half-attempt at a blouse — an imperfect fix for sure!)
Interested in writing something similar for Corporette? Check out our guest posting guidelines.