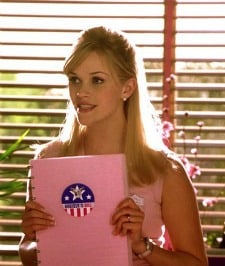 "How a Little Lipstick Could Add Thousands To Your Paycheck" — that's the title of a recent Fortune article reporting on a new study. Anyone else feeling a little stabby? We thought we'd take a closer look at the research and discuss it here. Some questions to consider at the outset: Do you agree that "good grooming" affects your salary and career success? Do you think there are other correlations at play (e.g., women who make more have more money to spend on grooming, or successful women are more organized to remember to schedule things like regular haircuts and drycleaning)? 
So, the study: Last week, Fortune reported on some research about the effects of looking "put together" at work. Two sociologists found a new way of crunching data from a study that looked at how people's ratings on attractiveness and grooming compared to their income levels. "Grooming" in this case meant how "put together" they looked, which included makeup for women. Their analysis revealed that for women, "grooming was actually more important than looks when it came to earnings." Men's grooming affected their salaries to a lesser extent, while men's and women's salaries got the same boost from being considered attractive. The sociologists found that "[A] well-groomed woman of average attractiveness makes about $6,000 more annually than an average-looking, averagely-groomed woman. She also makes about $4,000 more than her better-looking, but less put-together coworker." Researchers saw this as a positive, concluding, "[t]he big takeaway here is that people can capture most of the attractiveness premium [through putting effort into their appearance]… It's not just what you're born with."
A few years ago, we discussed the effects of makeup at work in an open thread that responded to a New York Times article about a similar study. That study found that when a woman chooses to wear makeup at work, it "increases people's perceptions of a woman's likability, her competence and (provided she does not overdo it) her trustworthiness," but the findings featured in Fortune seem to add a new angle to the issue.
This kind of article is ripe for satire — one example that touches on the issue is a McSweeney's piece by Maura Quint called "How to Negotiate a Raise (If You're a Woman)," which riffs on the double standards and other challenges women face at work. One part advises women on office makeup:
Do not wear too much makeup as this will make you look "cheap and unprofessional" nor should you avoid makeup as you will look "old and tired" and therefore more invisible than Wonder Woman's plane. Question how Wonder Woman was able to afford that plane given the wage gap. Look into government grants.
Kat's take: To me, grooming is much bigger than makeup — and it gets at a number of things we've talked about over the years here. A woman wearing a wrinkled suit with stains is not going to save that look with a swipe of lipstick and eyeliner, because the impression of a disorganized person is already there.
So, readers: What do you think about this new research (and accompanying headlines) — do you find it rage-inducing, or do you just feel resigned? Do studies like these affect your office-makeup habits at all? Do you ever wear makeup to look more professional, "likable," or "competent," or do you simply wear makeup because you like how it looks? Or, do you not wear it at all, no matter how it might affect you at work?