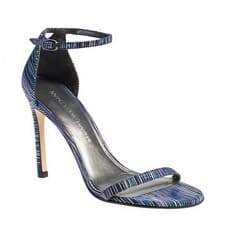 Something on your mind? Chat about it here.
I am sorry to report that the dark purple Nudistsong heels on Nordstrom's homepage are (sob) no longer in stock, at least not anywhere I can find. But they do have a bunch of other colors, including these gorgeous kinda-stripey kinda-shiney shoes. Considering the rest of the sandal is so minimalist (and, let's face it, not a "just popping out for brunch" sandal), I think it works. I want. The pictured shoes are $435, but they come in a bunch of other colors in prices ranging from $398 to $435. (The Nudist heel is the original bestseller; the Nudistsong is a slightly lower 4″ version.) Stuart Weitzman 'Nudistsong' Ankle Strap Sandal
These $79 Steve Madden sandals are very similar and highly rated.