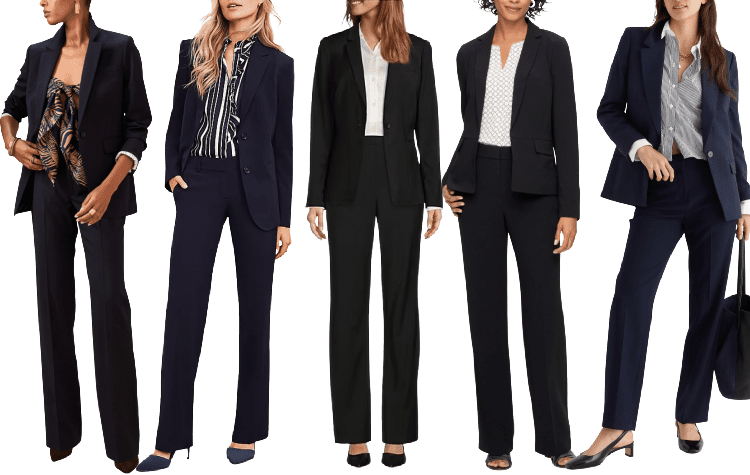 Our favorite mid-range suits for women as of 2023: one / two / three / four / five
Updated: Check out our Guide to Basic Women's Suiting and our roundup of the best women's suits!
With interview season for schools right around the corner, we thought now would be a great time to do a general guide to suits — where to get 'em, how much to expect to pay, and what the general pros and cons of each type of suit are. In comments, please chime in — let us know your favorite brands, and why you like 'em.
Don't forget to check out our guides to suits for petite women, as well as guide to suits for tall women and plus sizes, and to check out our general "what to wear on an interview" advice.
This post contains affiliate links and Corporette® may earn commissions for purchases made through links in this post. For more details see here. Thank you so much for your support!
We are a participant in the Amazon Services LLC Associates Program, an affiliate advertising program designed to provide a means for us to earn fees by linking to Amazon.com and affiliated sites.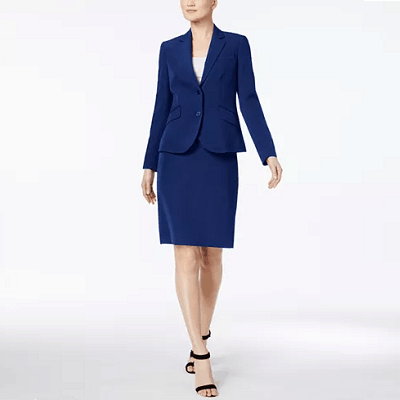 Suit sets. These are often found in dedicated areas of department stores like Macy's and discount stores like Filene's — brands like Tahari, Kasper, Le Suit abound. These are generally sold as a set (you buy the jacket and the skirt together for one price). Prices may range from under $100 to closer to $350, and the suiting is generally made from polyester and lined.
Pros: Price — with coupons and sales it's not unusual to find extremely low-cost suits.
Cons: Off-the-rack fit. The selection may include a number of very dated styles. Because they're made of polyester, they can be sticky and hot in summertime; there may be other fun side effects like retaining smells even after dry cleaning.
For my $.02, I've had great luck with Tahari skirt suits in basic black from this area of the mall — otherwise you generally do need to be very careful re: fit, particularly with pants.
Mall Suit Separates (Inexpensive). A number of brands do make inexpensive suiting separates — AK Anne Klein, Nine West, Inc., as well as others. (See our more complete roundup in the best suits for women!) These separates will be far from the "suit department," hidden among the brand's regular clothes.
Still, you can find great deals here, and because they're separates, you can get a better fit if you prefer different sizes for your tops and bottoms. I've had good luck with the AK Anne Klein separates.
Pros: Price, better fit.
Cons: The suit may veer towards the trendy, or too casual — fabrics like linen, stretch denim, etc. should not be worn for interviews. For example: Anne Klein suit sets are available at Nordstrom, Amazon, and many other department stores!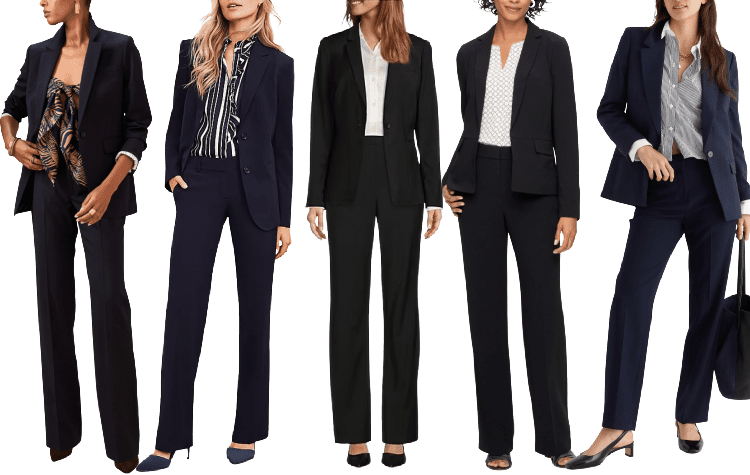 Our favorite mid-range suits for women as of 2023: one / two / three / four / five
Mall Stores – Separates. Banana Republic, J.Crew, and Ann Taylor have been long-standing favorites for many women. Their fits are more modern, and a single suiting look may come with multiple options — different types of jackets, different cuts of pants.
(Tip: If you're trying to choose between a two-button and three-button jacket, consider your bust: if you have one, you'll probably want to opt for the three-button.)
At most of these places, a suit (or several parts of a suit) can be purchased for between $300-$500.
Pros: Price is still really reasonable, but you can frequently see more natural fibers — wool, cotton — with a bit of stretch. (Update: the factory store versions of all of these stores have had great options for really basic, really affordable suiting lately.)
Cons: You may walk into a conference room and find you're wearing the same suit as another woman. Be sure to watch the trendier items at these stores also — at an interview you should avoid wearing things like a mini-skirt, a tulip skirt, or a ruffled jacket.
Better Department Store Brands: The next step up, for many, is Theory — their suit separates can be found in better department stores like Bloomingdale's. Nordstrom carries a number of lines (Hugo Boss, Reiss, Rebecca Taylor, Nanette Lepore) with the added bonus of, often, free tailoring — which can be great if, like me, you're just a little bit too short for regular pants.
We'd put Brooks Brothers and MM.LaFleur in this category as well — better suiting materials, free tailoring.
Pros: Much better fit because of the tailoring; better fabrics; the clothes last longer.
Cons: Price point starts to creep up.
Designer. What better way to announce that you have arrived than with a classic designer suit? We still think of Armani as the "power suit," but there are a ton of brands — both old and new — in this space.
Pros: Fabric; a long wear with the clothes, the timeless benefit of someone seeing your tag if you take off your jacket.
Cons: Price.
Readers, what brands and tiers have we left out? Which kind of suits do YOU usually pull out for interviews?
This post was originally written on Aug. 9, 2010 but has been substantially updated as of 2021 except where noted.