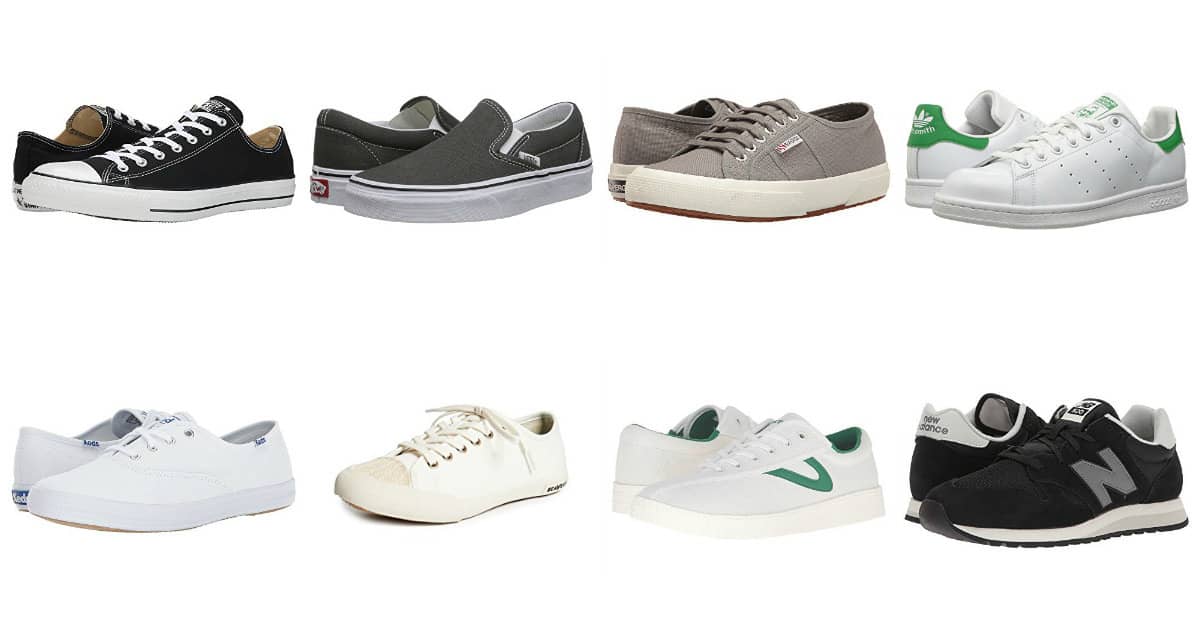 For today's Weekend Wednesday, let's talk about sneakers…specifically, which sneakers do you wear, and why?  Obviously sneakers are not appropriate at most offices unless you've got a very casual office. But almost everyone needs a pair of sneakers for the weekend (whether you're canvassing for office, hitting an outlet mall, or just having brunch). And I'm always interested by how many women, myself included, sort of have a base sneaker that you choose again and again for "fashion" more than any athletic purpose. For me it's Converse, which as I've noted, I've always associated with a wacky, outsider, sarcastic kind of persona — the kind of persona that I really identified with in my youth. I've stuck with Chucks, even though they don't feel 100% me anymore, in part because the other sneaker brands feel even less like me since I have associations with those, too. Keds = My Grandmother. Vans = My friend J. (Nothing against J; they look great on him — they're just not me.) (And today's question honestly has nothing to do with judging other people — it's more like the Amy Poehler idea of "good for you, not for me" — there is no right answer because obviously all of the different sneakers are hugely popular. I just think it's interesting how we identify different personality traits or style personas with different sneakers, sometimes very strongly.)
On the flip side, there are newer, more fashionista-y sneakers coming down the pike every day — these days it seems like everyone wants a blush-colored sneaker from brands like AllBirds, Everlane, and Eytys. (If you definitely consider yourself more of a fashionista/sneaker-purchaser I'd check out Net-a-Porter, ShopBop, or possibly J.Crew (lots of trendier, exclusive colors for Tretorns, SeaVees, and New Balance particularly) — but I'm curious to hear what other shops and brands you love for fresh sneakers also.)
So, readers do tell, which are your favorite sneakers for the weekend? What do they signify to you? How do they play into your weekend persona when you're not at the office? What are your associations with different sneaker brands? Have you ever changed your "base" sneaker and started wearing another brand (or do you own several of these sneakers and move among the brands)?
Pictured above (by color), Row 1: black / gray / gray / white; Row 2: white / white / green / black
Pictured above (by brand name): Row 1:  Converse / Vans / Superga / adidas Stan Smith; Row 2: Keds / SeaVees / Tretorns / New Balance
This post contains affiliate links and Corporette® may earn commissions for purchases made through links in this post. For more details see here. Thank you so much for your support!