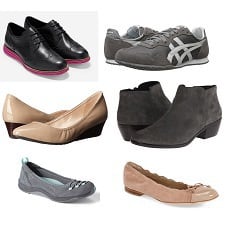 2020 Update: We still stand by this advice on what women should wear for canvassing (with a few updates as noted) — you may also want to check out our resources for women running for office.
We recently got this question from a reader who's running for judge (woot, you go!), and it raises an interesting issue of what is casual but professional footwear for women — for weekends and other outings outside the office. Can you be professional in sneakers? What are some other options besides work sneakers? In a bigger sense, what should women wear while canvassing or otherwise politicking for office?
Pictured, clockwise: Cole Haan OS Grand, Onutsuka Tiger, Sam Edelman Petty, AGL ballet flat, Lands' End bungee ballet flat, and the Cole Haan Tali.
We tried to talk about the casual-but-professional-uniform a few years ago, but I still feel like it's an issue. Reader K asks:
Kat, I am a 42-year-old lawyer, mother of two, and am running for judge [locale redacted, but suffice it to say somewhere hot]. I made it through the primary and am in a runoff on May 24. There are occasions (like when I'm working the polls) that I wear my campaign t-shirt and a pair of jeans. I have worn boots with my jeans (in February), but now that it's getting warmer, I think I need a pair of sneakers. The problem is I have running shoes, boots, flip flops, or dress shoes. Do you have any suggestions for stylish, comfy sneakers?
Congratulations, and good luck! As to the question about what women should wear while canvassing: very interesting. Comfortable, stylish, but vaguely professional sneakers: I'm curious to see what readers say here. I'm a diehard Chucks girl myself — they're classics! But aside from off-white Converse, I would worry that they show a bit too much personality — I associate black ones as being an outsider/artist/comedian kind of shoe, for some reason, and colorful ones being too young/wacky. (I currently wear gray ones on weekends, which perhaps is my way of saying "I used to feel like an outsider but now I'm a mom and have no feelings of my own.") Instead, I might steer you toward a few other options for work sneakers and other casual-but-stylish shoes:
What Shoes to Wear While Canvassing
First, the sneaker/oxford type of look: I'd go for the Onitsuka Tiger, which is hugely popular both on Zappos and among readers here — it has a low profile, a zillion color combos to choose from, and fits the bill of a comfortable shoe and work sneaker. The second option: Cole Haan's OS Grand, which is extraordinarily lightweight and comes in sneaker-y versions as well as more oxford-y versions. The plus side of having a more business-style oxford is that you can wear it with cropped pants, whether they're khakis or denim. If you're daring enough to try canvassing or just standing for an extended time in a heel, consider another Cole Haan staple, also ridiculously lightweight: the Tali. (It used to be part of their collaboration with Nike Air — on my last visit to a Cole Haan store the SoHo salesmen confirmed that it's still one of their best sellers.)
2020 Update: We've actually had a conversation about what your weekend sneakers say about you if you want to check it out!
Pictured below (by color), Row 1: black / gray / gray / white; Row 2: white / white / green / black
Pictured below (by brand name): Row 1: Converse / Vans / Superga / adidas Stan Smith; Row 2: Keds / SeaVees / Tretorns / New Balance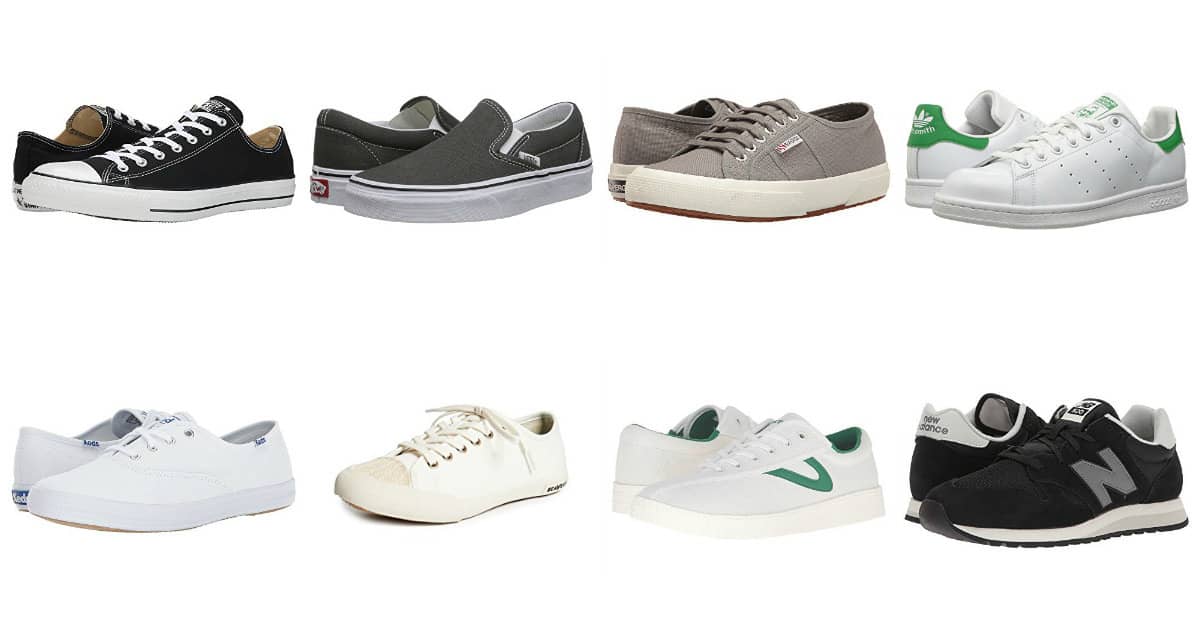 Second, I feel like the high wedge/espadrille heel is a very Kate Middleton-walking-a-lot-outside look — there are some cute options from Seychelles, Clarks, or these highly rated Toni Pons now; Sperry, Loft, Free People also have some cute espadrille flats. (Flashback time: Years ago people used to sing the praises of Kate Spade wedges for this very purpose.) I don't really think it matters for these purposes if your toes are exposed, but know your demographic. (I would also note that if making the time for a pedicure or plain, well groomed toe nails isn't high on your priority list, I'd stick with a closed toe shoe.)
Finally: of course you can wear ballet flats if those are comfortable for you for walking (they wouldn't be for me, but that's me!) — people swear by the comfort of AGLs. There are sportier versions of this look as well, such as Crocs' ballet flats or these Lands' End bungee ballet flats (recommended by readers just this past weekend!).
General Advice on What Women Should Wear While Canvassing
As for what else to wear: I still think a dark rinse denim looks best. I used to think I was dating myself by preferring bootcuts over skinnies, but the crazy thing about trends moving so fast is that I think anything goes at this point. I think skinny jeans are the elder statesmen of the bunch, while bootcuts are "back," flares are in, and there are a zillion different cropped styles (boyfriend, skinny, flared, flared crops!) that everyone is still getting used to. I believe it's important to stay up to trend on your denim style, but for this particular purpose I'd stick with an established look — to me this means full-length boots or flares, in a dark blue rinse with as little distressing as possible. If you'd rather go with skinnies instead, I might steer you towards ankle boots — with just a touch of ankle showing, which is certainly fine through May. The Sam Edelman Petty is still going strong for a flat option; check out our most recent roundup for other booties. If you worry about overheating, you may want to look into some of the trendy cut-out booties, such as these perforated ones from Jeffrey Campbell or these highly rated $79 Rebels booties. I always like a blazer with jeans, even if there's a campaign tee beneath it (ooh, or have you considered having a custom scarf made with your campaign logo on it? Might look great worn long and loose with the blazer, or wrapped once around your neck).
2020 Update: These are some of the best jeans for work (affiliate links): 1) Paige 2) Madewell 3) Topshop 4) Wit & Wisdom 5) Levi's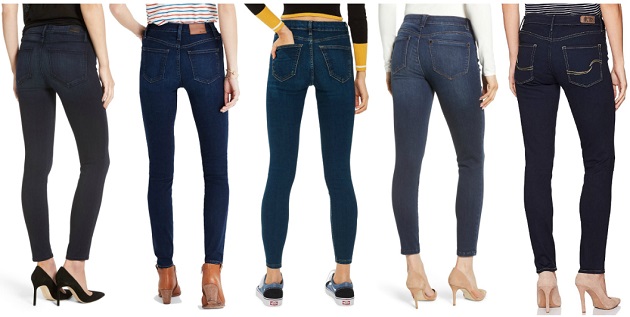 Ladies, what are your thoughts on what women should wear while canvassing? Perhaps more importantly, what would you expect a future judge to wear on the campaign trail(or to not wear)? Any super comfortable flats, sneakers, or summerish boots to share?