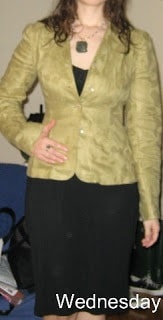 2018 Update: We still stand by this advice on what to wear with a black dress, but you may want to check out our most recent discussion on how to wear a black dress with a non-matching blazer.
What do you wear with a black dress? Reader L has what might seem like a silly question at first…
Hi, I have a silly question, but could you talk about what colors you wear with a black dress? I like saturated bright and jewel-tone colors, and combining them with black feels too stark, so I get a lot more wear out of navy blue, charcoal, and black prints than solid black. But I'm looking to incorporate a more polished, professional style into my work wardrobe, and excluding black limits my options for basic work dresses a lot. I'm always cold in the office so dressing in layers is a must, but the only thing I have that seems appropriate is one gray blazer. What else should I look for to layer over black dresses? I'm a designer in the tech industry, so I have a lot of leeway, style-wise. Thanks for your help!
We've talked about what to wear with a gray suit, but we haven't talked about what to wear with a black dress. I know Sally at Already Pretty had a post a while back on "wearing black with intention," and Angie at YouLookFab has also tackled the issue. I'm going to be less refined than either of those two fine ladies, though, and say: whatever you want.
Something that I don't think I've disclosed before here on Corporette is that from 2006-2009ish, I had a personal clothes blog. I would say "personal style blog," but it wasn't anything as fancy as that — it was mostly just headless shots of myself in clothes that I had bought and was trying to decide whether or not to keep; sometimes outfit pictures. My mom was pretty much the only reader. Anyway, one of the things that I chronicled on that blog one September was this:  I had just finished a big project at work and felt somewhat giddy from the sudden lack of pressure. To "celebrate," I decided it would be amusing to wear a different black dress every day that week. So this is what I wore to my BigLaw job for one full week in late September:
Now, a few caveats — the first picture was taken before I headed out to my brother's birthday dinner; at work I had just worn the black shirt-dress. It was a little flouncy, looking back, but not quite as fancy as this picture makes it out to be. The second dress was one that I'd bought at a Brooks Brothers outlet for $9 and had a neckline that was cut way too high to be flattering to my curves, but I thought worked with fine if I used a thin gold Maria Chavez necklace to "lower" my neckline. The third outfit — lightish green jacket (hated the color but loved the cut so I bought it on deep discount) and a darker green necklace that I thrifted at Eastern Market in DC during law school. Thursday I may have gone to an informational interview with an in-house friend; I loved that light blue Ann Taylor blazer and wore it with a tiny sapphire necklace. Friday I actually changed the outfit after the picture, switching to a silver necklace so I could throw on this crazy gray leopard print blazer that I got on deep discount (I think it was $80 down from $500). (Yes, I know now that dress was way too short for work. I also think the dress itself was like $30 from Gap.)
So what are my takeaways here? Even though I say "wear whatever you want" with black, I actually do have some rules:
wear black by itself, with no colors (e.g., Monday and the shirtdress and shoes)
play with texture if you're wearing multiple blacks (particularly if they were bought separately), e.g. my Tuesday BB dress with patent leather belt
wear black with multiple colors, not just one — playing with tones of the same color is fine (as I did with the Wednesday green blazer/green necklace or the Thursday light blue blazer/dark blue necklace)
personally I'm not a fan of wearing white or cream with black — it always feels too waiter-ish to me (but I did wear my pearls with the Monday dress, so hey, rules are meant to be broken)
I think so long as Reader L wears multiple colors with her black dress, it doesn't matter how saturated or jewel-toney one of the colors is. Readers, what do you think? Do you have certain colors that you won't wear with black? Do you have any "rules" for styling black dresses for work?