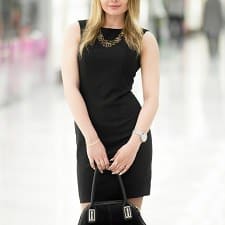 Dressing professionally — but fashionably — can sometimes be a challenge, especially if you're just starting out. One of the biggest questions we've gotten over the years is this one: if you're not supposed to wear non-matching suiting pieces together, what ARE you supposed to wear with a black dress? So today we're rounding up our best tips on how to wear a black dress with a non-matching blazer or cardigan, all for reader A. Here's her question:
Blazers with black dresses… I have so many black dresses but KNOW I'm not supposed to wear a non-matching black blazer. So, what to wear?
Great question — particularly as spring is in full swing and we head into summer — especially since we just rounded up stylish sheath dresses for work that would be the ideal bottom layer here, if you're on the hunt.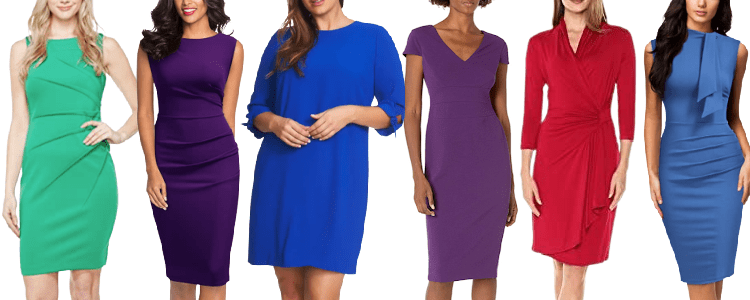 Long ago I shared what I wear with black dresses to work, but it's been a while, so let's discuss. Here are some great things to pair with a black dress:
Go colorful! Wear a colorful blazer, sweater, or jardigan — but note the old fashion adage that suggests you should wear "color with color, and black with black." So if your black dress is your base, you may want to consider adding at least two colors in the rest of your outfit. The easiest way to do this is to find a cardigan or blazer with a print on it that you like, but you can also go with a coordinating color (a royal blue and robin's egg blue, or a purple and blue color scheme) or contrasting (colors opposite each other on the color wheel, like yellow and blue, red and green, and others). As we noted in our four-week work outfit challenge (still ongoing if you need it!), an unusual color scheme that looks really great is to wear red, blue, AND green, all in one look. This is a great time to bring in accessories like belts, necklaces, and scarves for additional colors!

Get shady. If all of that sounds like a lot of color, you can go with shades of black — different shades of gray (with silver accents) against a black base is often a sophisticated, sleek look.
Go for texture. If you're going to wear black with black but worry about looking like you're trying to "make" a suit out of nonmatching black fabrics, you want to make sure you're wearing black with black with intention. One way to do this is by adding different textures — if your dress is a smooth suiting fabric like a seasonless wool, make your topper a summer fabric like linen, cotton pique, or jacquard (or in winter, think tweed, velvet, corduroy, or boucle). We regularly round up lightweight blazers for summer as well as winter-weight blazers; I usually try to note which ones come in black. Wearing a cardigan or jardigan with a dress often works for this reason, no matter what color — it's clear that it isn't part of a suiting set.
How about you, readers: What do you wear with a black dress? What do you consider to be "off-limits" with a black dress?
Photo credit: Deposit Photos / fizkes.