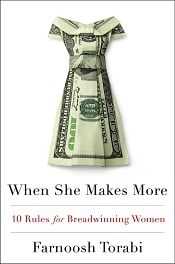 2018 Update: We still think this is a great discussion on whether women breadwinners can level the financial playing field — but you may also want to check out our more recent discussion on when women out earn their partners.
Women breadwinners is a topic we've touched on before: we answered a reader question about dating a guy who makes significantly less money, and a few breadwinning readers had some interesting comments on our recent Tales from the Wallet about managing your money after you get married. I was curious (and excited) to hear about an entire new book examining how relationship dynamics change when the woman is the breadwinner, and reached out to the author. Please welcome Farnoosh Torabi, sharing an adapted excerpt from her book 
When She Makes More: 10 Rules for Breadwinning Women
. – Kat
Evidently, if you make more than your man, you're more likely to be the one in control of the money. My
nationwide survey
co-conducted with clinical psychologist
Brad Klontz
revealed that women who bring home the bigger paycheck are significantly more likely to be the primary decision makers on money matters and take charge of things like paying bills, budgeting, saving, and planning for retirement. But while such an arrangement has its advantages, it could also be asking for trouble. It calls for a new rule. A sense of equity between two committed people is important, even if there's an income disparity. But to keep a man's dignity and sense of engagement, he needs to feel like he plays an important role in the relationship and that he's not completely isolated from the financial decisions. And for a woman to keep her sanity and sex drive alive, she shouldn't have to do the equivalent of a CFO's job after she's gotten home from her 9 to 5 (or 7 to 11).
Consider this scenario:
When Kyle lost his job in IT, his social worker wife Lynne suddenly became the breadwinner for their family of six. The Houston couple's income shrank by 50 percent, but their bills continued to pour in. The stress was mounting, so Lynne took it upon herself to manage all of the family's finances (i.e., paying bills, balancing the checkbook, managing the savings account), while Kyle buried himself in his job search. It felt like she was helping out — why saddle Kyle with more work when he could be polishing his resume and practicing his interview skills? But in taking over the finances, Lynne cut Kyle out of the decision-making process. Yes, she took care of the bills, bought the groceries, but she also did not appreciate when her husband used their discretionary money to buy, say, a new pair of golf shoes. And thus a vicious cycle was born: Kyle, grasping for some sense of autonomy and dignity, started making (and hiding) personal purchases outside of the budget. Lynne then clamped down tighter. Both started to lose respect for the other.
The challenge:
How can men and women help each other not just feel, but be accountable for their finances when she makes more? From a practical standpoint, who pays for the mortgage, vacations, and everyday living expenses? From an emotional standpoint, how do you make him feel like a player and that his contributions — financial or otherwise — matter? What steps can a couple take to reach financial fairness? Although he may not make as much, how can he feel as involved with and connected to their shared financial life as she is? The answer lies in the following
When She Makes More
rule:
Level the Financial Playing Field
. In every relationship the solutions are different and no one way is necessarily right or wrong, as long as both of you are on the same page and agree to these simple protocols: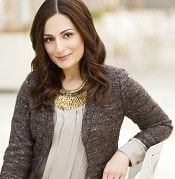 Establish long-term priorities and short-term schedules. If he wants to feel involved and on par with you financially, he needs to roll up his sleeves and commit to some of the dirty work like paying bills, balancing the budget, and paying attention to potential investments for your retirement accounts. First, make sure to get on the same financial page and agree to goals so that there's no miscommunication. Once you both have a clear picture of the finances, figure out together how you want to delegate money.
Decide who will manage the bulk of the finances. While every breadwinning woman would do well to monitor finances, that doesn't mean you have to manage it all, too. While neither of you may enjoy handling the family checkbook, it does make sense to delegate money management to the person who is more interested, better organized, or is simply more frugal. Either way, both research and anecdotal evidence shows that couples have to make a decision about which one controls the finances not based on income or gender, and that whoever makes the financial decisions consult with their spouse. Otherwise you risk turning the other person off in more ways than one.
Stay transparent. Online accounts, such as banking and bill paying (e.g., utilities, mortgage, cable) should be accessible by both you and your partner. This is useful in case of an emergency, and to have a clear picture of your finances. Free websites like Mint.com can provide each member safe and easy access to financial accounts, allowing you to visually track your spending and debt. It also helps to check in together once or twice a month so you're both in agreement with what's going on with your money. Keep a running list of all online account usernames and passwords including — but not limited to — your family cell phone plan, utilities, mortgage, joint credit cards, brokerage accounts, and insurers. Store a hard copy in a fireproof lock box in your home or safe deposit box, as well as on websites like PassPack.com and Clipperz.com where you can securely store all your household passwords in one place for free. Even if your husband is the one who regularly handles the bills and accounts, make a habit of checking these accounts regularly to make sure they're in good standing.
Make decisions by committee. That means asking for help from your man when you need it, agreeing to compromise, and admitting when you're in over your head. I do this a great deal in my relationship. It's not easy for a breadwinning wife to admit her weaknesses or ask for help, but it's essential. It's enough to just sometimes call or text and say, "Hey, can we afford this? Should we buy this? Is it worth it? What do you think?" It's critical to admit when you don't know something. It allows your better half to have his voice heard — and, quite possibly, save your financial behind.
Lose your possessiveness of your money, but don't apologize for your personal splurges. As a breadwinning woman, you have to be prepared to both give up total control of all the financial decisions and a little bit of the lifestyle you feel you can afford (or deserve). As women bringing home more bacon, we have to understand that we are in a partnership. While we've accepted that "my money" is "our money" (to an extent), are we ready to really experience what that means? After all, it may mean downgrading a tad or, to put it nicely, making more economical trade-offs. I won't ask you to give up certain luxuries that you should be proud to afford, but you shouldn't be spending like you're single. To help create three accounts: mine, yours, and ours. Each of you should allocate a percentage of your income towards the "mine" account for personal discretionary spending that doesn't require a household vote.
Give his money meaning. If your income is covering a lot of the day-to-day costs of living, your income can easily overshadow his. But even if he's making some money, it's still money that could go toward a vacation, college fund, new car, down payment on a house, or some other big-ticket item farther down the road. These allocations from him not only take away the burden on you to fund everything, but it'll be very rewarding for your husband to know he was able to send his kids to college or fully fund the next big family trip.
Farnoosh Torabi is a personal finance expert, contributing editor at Money Magazine, and author of
When She Makes More: 10 Rules for Breadwinning Women
(Hudson Street Press).
Readers, are you the breadwinner in your relationship? Have you found it more difficult than you expected it to be in your relationship? Have you adopted any of these rules?
We are a participant in the Amazon Services LLC Associates Program, an affiliate advertising program designed to provide a means for us to earn fees by linking to Amazon.com and affiliated sites.