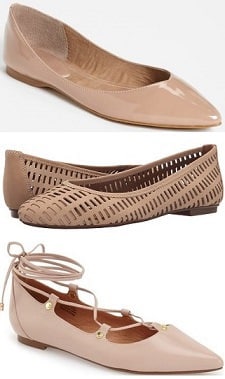 While I have a tendency to feature workwear with interesting details for our main TPS reports, I've always thought that the Hunt features were great ways to feature some of the more basic items of clothing that truly make up the workhorses of a businesswoman's wardrobe. So today I thought I'd try out a new idea, and feature three work outfits using the item from our last Hunt: nude-for-you flats. You can see the full roundup of nude flats here, or nude heels here. (Beige flats are a neutral whether they're nude-for-you or not, but to match your skin shade to find a nude-for-you flat, see the full Hunt for several options in darker shades. Pictured below are the six shoes we featured, but we rounded up a lot of others in specialty categories like comfort, affordable, wide widths and more!)
Pictured above: 1 / 2 / 3 / 4 / 5 / 6
Below, our three work outfits using nude flats:
Outfit for a Conservative Office:
I tend to think nude flats look best with ankle pants or skirts, so that's what I've featured here. I love the idea of mixing navy and black in an intentional way, as shown here — it's a sophisticated, easy, fun look. Pro tip: just make sure your navy and black are clearly different colors — the closer they are the more you run the risk of people thinking you got dressed in the dark.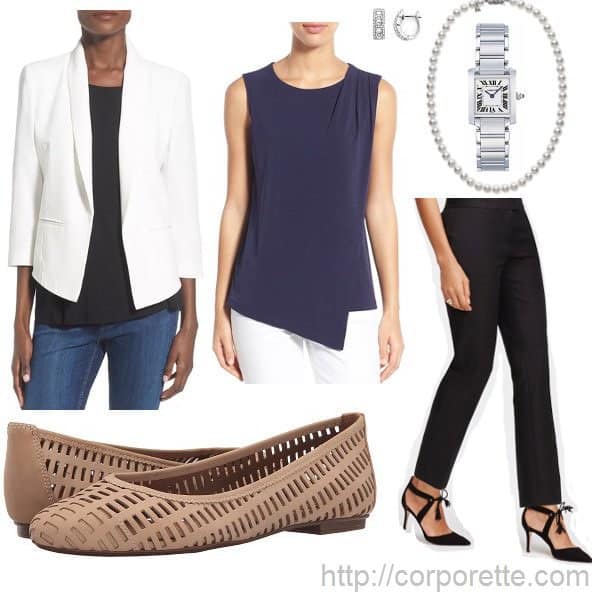 Pictured: White Blazer / Navy Shell / Diamond Earrings / Pearls / Watch / Black Pants / Beige Flats
Business Casual Outfit:
I always think that a bit of a pointed toe looks best with skirts, so I've used the very popular (and super affordable) Moveover flat in this collage. Also: I am seriously crushing on this red necklace, which I went out hunting for just as a counterpart to this light blue skirt. You can dress up this look more for a conservative office with a collared blouse, or even just a blazer, but sometimes simple is best. Here's a link to our last roundup of the best pencil skirts for work.
Pictured: Black tee / Necklace / Blue Pencil Skirt / Beige Flats
Casual Office Outfit:
Finally: While this is a really colorful outfit on paper, in real life it's mostly just navy and dark purple. I originally had it with pearls but then thought a little pendant necklace might be better; the pictured one is a sapphire but any small, delicate necklace would work. (Another great option, here or with the navy top in the first collage: my beloved initial necklace from Maya Brenner.) The long cardigan is the same one I featured in The Corporette Guide to Cardigans (and wear a TON).
Pictured: Necklace / Watch / Cardigan / Blouse / Ankle Pants / Lace-Up Flats
Ladies, what's your favorite way to wear nude flats? Which of these three work outfits is your favorite?