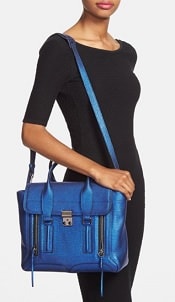 Hmmn. Azure? Or electric blue? Azure? Or electric blue? Phillip Lim's very popular 3.1 satchel hasn't been my favorite in the past — I just wish it were big enough for, say, a legal-sized notepad — but these two (two!) new blue colors are both calling my name. So: azure? Electric blue? Azure? Electric blue? Hmmmmmmn. The bags are $895-$1095. 3.1 Phillip Lim 'Medium Pashli' Leather Satchel
Here's a lower-priced option.
Dec. 2015 Update: While it looks like this exact color has sold out, the style itself has been around for several years and is very popular — check out the latest colors in stock at Nordstrom.