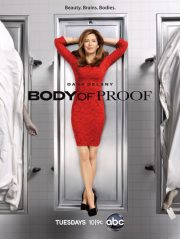 Today, a rare treat:  a 360 review!  In the 360 Review, Corporette examines a "professional woman"s" attire and critiques it from all perspectives: underling, boss, friend. Today's guest post is from Ashley Faus, who blogs at Consciously Corporate — she's reviewing Dr. Megan Hunt of the new ABC show Body of Proof.
Meet Dr. Megan Hunt, the intelligent, articulate, and often sarcastic Medical Examiner for the city of Philadelphia on ABC's "Body of Proof". Megan was a brilliant (and rich) neurosurgeon, until a car accident ended her career in the OR. Her impeccable (and expensive) taste in clothes and accessories carried her from surgeon to sleuth, and she looks professional and chic while she seeks the truth in the bodies that land on her table. Dr. Megan Hunt does an excellent job crossing the lines between business casual and conservative professional, with pops of color and accessories. She manages to look flawless while performing field work as well, with classic outerwear and practical shoes. In her personal life, Megan Hunt is coping with her ex-husband's new girlfriend, her 12 year old daughter's new interest in a relationship with her, potential new boyfriend material, and her mother's re-election campaign as a judge in the city. If that isn't enough stress, Dr. Hunt must deal with a flirty partner, two hard-nosed cops, a curious lab tech, and a sarcastic by-the-book supervisor. Megan is anything but "by the book", leading her to clash with her supervisor, and often, her boss. Dr. Megan Hunt is played by actress Dana Delany, and she's definitely not a Housewife anymore! (You remember her from Desperate Housewives?)
The Good: Megan wears well-tailored, ageless clothing, paired with professional accessories. Her clothing honors both form and function, as she looks put together in the office or out in the field. She generally stays office-appropriate, with knee-length hemlines, reasonable necklines that don't draw attention to her bust, and fitted-but-not-tight outfits. She also knows which colors are flattering, and pairs her outfits well with her red hair.
The Bad: Sometimes Megan's shoes are a little over the top, and her shoes seem to be a consistent source of attention, with high heels, strappy styles, and embellishments. And, per TV, her necklines plunge a little low in certain outfits.
The Impression: As a hiring manager, I would find Megan to be confident, polished, and all-business, if she wore one of her tailored neutral dresses to the interview. As her supervisor, I'd find that her clothes say power, and a hint of rebellion with the loud shoes. And, as a subordinate, I'd say that she's a professional I'd like to emulate. However, I would probably need to wait until I had a few more years of experience under my belt before attempting to wear some of her more adventurous choices. In general, I think Megan projects authority and drive to all levels of the organization, but shows a hint of personality with her shoes and accessories. Megan definitely likes to make a statement, and her clothes enhance her presence whenever she enters the room.
Dr. Megan Hunt is a complex character with a fabulous wardrobe! She flawlessly pairs function and form, and takes her outfits from field work to office to home life in a seamless transition.
Interested in writing something similar for Corporette?  Check out our guest posting guidelines here!