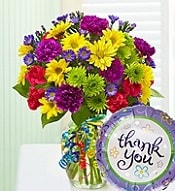 2019 Update: Administrative Professionals' Day is April 24, 2019. You can check out our most recent thread on what we're getting for our assistants on Administrative Professionals' Day here.
Although Wednesday is officially Administrative Professionals Day, it's been spreading into a weeklong affair for a few years now. Readers, what are you getting your administrative professionals to celebrate? Some past reading for you: we've taken polls on administrative professionals day gifts before, talked about how and what to delegate to your assistant, and swapped stories of amazing assistants. (Pictured: It's Your Day Bouquet® Thank You, available at 1-800-Flowers for $39-$49.)
For my $.02: in my BigLaw experience, this day and week paled in comparison to the year-end assistant's gift, and a card + flowers presentation from the numerous people sharing a secretary was more than fine. As we noted in our last poll, the vast majority of people gave less than $50. Don't discount the floral/balloon display as part of the gift, though — I've always thought that part of this holiday is about broadcasting to the world (and your higher ups) that YES, you remembered the holiday, and YES, you are capable of ordering flowers for your assistant without his or her assistance.
Readers, how much are you spending on your administrative assistant or secretary this week (cash plus gift)? What gift are you getting him or her? In general, what kind of things do you delegate to your assistant?