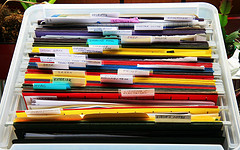 2023 Update: Administrative Professionals Day is April 26, 2023. Some great gifts to get for your administrative professional (other than cash, of course) include:

This post contains affiliate links and Corporette® may earn commissions for purchases made through links in this post. For more details see here. Thank you so much for your support!
As today is Administrative Assistant's Day, I thought we'd have an open thread about what the best thing your secretary/assistant has ever done for you. We've talked about what you can delegate to assistants before — what DO you guys delegate? What do you look for in a great assistant?
For my own $.02, the best assistant I ever had was only mine for a short period — she was attached to a partner down the hall who had a niche practice, and when the partner moved offices, so did my secretary. But in addition to being pleasant and nice, she was really smart — I felt like I could give her anything and she would do a great job with it. I wish I could remember something specific she did that went above and beyond, but really she was just generally excellent!
(Pictured: Files, originally uploaded to Flickr by Velo Steve.)