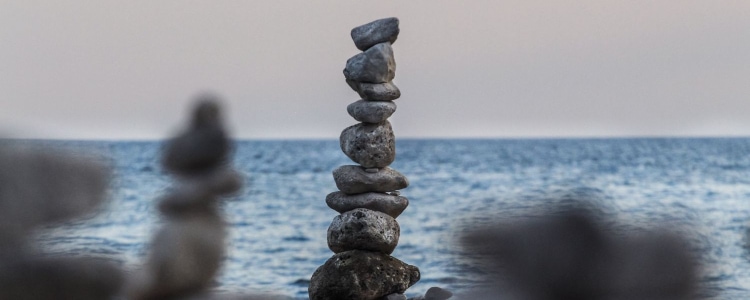 What does it mean to have balanced investments, and how do you do it? What is a proper asset allocation? I first tried to answer these questions about six months ago (maybe longer) and finally think I've got it figured out… kind of. Still, do note: this is not intended as a tutorial, just a jumping off point for a discussion. Readers, what are your best tips on asset allocation and rebalancing your investments?
This post contains affiliate links and Corporette® may earn commissions for purchases made through links in this post. For more details see here. Thank you so much for your support!
Why You Should Balance Your Investments
First — why should you balance your investments, or allocate your assets? I read Ramit Sethi's I Will Teach You To Be Rich a while ago — a great introductory book if you're new to financial stuff, and definitely a quick read. One of the only things that was new to me was his explanation of how and why to balance your investments, which I'd heard about through the years but never really focused on. (To be honest, I kind of thought all I needed to know was that bit about subtracting your age from 100 and putting that percentage in stocks, which roughly translated to me as "invest mostly in stock index funds.") 
In Sethi's book, he talks about how you should have a target asset allocation (also quoted on his website) of something like 15% TIPS, 15% Government bonds, 20% REITs, 5% emerging-market equities, 30% domestic equities, and 15% developed world international equities. Whoa! That's a bit different than "mostly stocks." But I suppose it's easy enough to figure out, at least if you're just setting up your investments for the first time.
So, let's say you invest accordingly, and in that first year, domestic equities do AMAZING and emerging-market equities have a lousy year — so at the end of the year you may end up with 60% of your holdings in domestic equities and only 2% in emerging-market equities. So, Sethi says, at the end of each year you should figure out what your target allocation is and then readjust so that you're putting something like 20% into emerging-market equities and only 10% into domestic market equities. Uh huh. Ok. Simple!
Now, Sethi's solution here is that you should buy target date funds, which automatically balance for you. But no one advises you to put all of your money into ONE fund, which means that as soon as you diversify, you need to try to rebalance manually. (This may be where you're saying, "screw it, just get a financial adviser," — but Sethi advises against financial advisers, noting that no one really knows what the stock market is doing, and (if memory serves – I read it a few months ago) he even analogizes financial advisers to a study involving sommeliers, who — while blindfolded — couldn't tell the difference between red and white wine. The lesson: "experts" aren't all they're cracked up to be.)
Figuring Our Your Current Asset Allocation
OK. So now you're committed! Let's rebalance! But first you have to figure out what your current allocation is, which can be kind of tough. My husband and I own multiple stocks as well as mutual funds, index funds, and target date funds — spread out between Schwab, Vanguard, Fidelity, American Funds, and ING Retirement. Any one of those individual brokers will tell you what your asset allocation is within their brokerage — but only within that one account. No one gives you a full picture.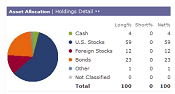 My solution here was thus: I went over to Morningstar's Portfolio Manager and entered info for ALL of our investments. (At least, all of the ones that had ticker symbols — I couldn't find them for the ING holdings, which kind of just makes me want to roll over that old 401K. Stay tuned for that post…) This took some time! After entering them all, it turned out that I needed to pay for premium membership to actually analyze them with their "X-ray Analysis" tool (you can get a 14-day free trial, or choose a monthly $22/month subscription thereafter — and if you cancel your membership halfway through the month they do prorate you).
Tips on Rebalancing Your Investments
As it turns out, there are a LOT of schools of thought for the ideal asset allocation, and you're not always comparing apples to oranges. For example, according to Schwab's Investor Profile Questionnaire Results,* I should have 35% in Large Cap Equity, 10% in Small Cap Equity, 15% International, 35% Fixed Income, 5% cash. According to Fidelity I should have 60% in stocks, 25% in Foreign, 15% in bonds, and 0% short term. You'll notice that those are very different buckets than what Sethi suggests you have — not just different percentages, but entirely different (and sometimes overlapping) buckets.
So I picked ONE school of thought — Schwab's, since that one at least was the result of my telling the program my risk tolerance and our personal investing timeline. I'm not really sure it matters which school of thought you pick, just so long as you pick one.
ANYWAY: so according to Schwab, I should have:
35% in Large Cap Equity
10% in Small Cap Equity
15% International
35% Fixed Income
5% cash
Note that that is mostly still true to the "subtract your age from 100" thing that you've heard — I'm 36 — but it gives quite a bit more information about where to put the rest of it.
According to Morningstar and the handy-dandy pie chart (above), I had:
59% US Stocks
12% Foreign
23% Bonds
1% Other
4% Cash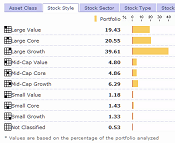 Now, it's worth noting that that "cash" is the cash being held by various investments (as in, a fund I own keeps a small percentage of its money in cash, outside the market) — that doesn't take into account the family emergency fund or other cash accounts. So my first self-assessment here: we had way too little in bonds. Clicking on another tab within Morningstar, I could see that in my stocks, almost all of my holdings were in large cap stocks.
So the second lesson from my self-assessment: we needed more smaller cap stocks. (This is depressingly simple when written out like this — buy more bonds and small stocks! — but really, it was hours and hours of research.)
Rebalancing Your Investments
Not to be a tease, but I don't have any super easy advice for rebalancing your investments, or even any final tale for what I did because we're still in the midst of it. If I were investing an amount on a regular basis, I might reconfigure my percentages by eyeballing them — more bonds and small caps, less big stocks. However, because it's April and I'm self-employed, we had money that we had to invest in my SEP-IRA plan — so almost all of that chunk of change went into bonds and small caps. My super-scientific plan: I researched index funds in Vanguard that invested mostly in bonds and small-cap stocks, and then put a little bit of money into each fund. Hooray for diversification!) I happily entered the new info into Morningstar and saw that my allocation had changed:
59% U.S. Stocks
12 % Foreign Stocks
24% Bonds
4% Cash
Looking at the makeup of stock types, I saw that I had gone from a total of 3.14% to 8.35% in small cap stocks, out of 100% of all stocks. So: everything I did was a drop in the bucket in terms of rebalancing our investments. I've started the process to roll over my old 401K at ING to an IRA in Vanguard; my husband and I have also talked about investing a bit more money in the market anyway (beyond our tax-savvy investments), which will likely go into bonds and small caps. Once those changes are done I'll probably check my allocations yet again and decide whether to change our automatic investments (like his 401K or the tiny bit we invest automatically), or sell some of the holdings we have "too many" of.
Kat's Takeaways on Asset Allocation and Rebalancing Your Investments
This is not rocket science, and I think this is something that people can do themselves. That said, it probably would be a better use of my time to just pay a financial adviser to figure this out, particularly now that I understand what the goal is and why we do it.
Readers, what are your thoughts on asset allocation and rebalancing your investments? Do you outsource this to someone else? Do you not pay attention to it?
* If you already have a Schwab account, get to the Investor Profile Questionnaire by logging in to your account –> selecting the "Guidance" tab at top –> choosing "Schwab Portfolio Checkup" –> then click "Investor Profile Questionnaire" in section B. (Fast AND easy!, she said sarcastically.)
2021 updated images (balanced pile of rocks) via Stencil. Originally pictured: Kate Spade New York Carmine Street – Lacey Wallet, available at Nordstrom for $158 in green, pink, and black.)