Our daily TPS reports suggest one piece of work-appropriate attire in a range of prices.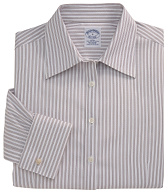 Today's TPS was suggested (independently) by readers LPC and N: this lovely classic, non-iron, fitted shirt from Brooks Brothers.  There are quite a few on sale at the moment in the "clearance" section and in stores — and with the free shipping if you order $200 worth of stuff (through 9/2), you can't go wrong.  Reader N noted that she plans to wear her charcoal and white striped shirt (like the one pictured) with her tan suit — an outfit that sounds great to us.  (If you go for a French cuff shirt, we recommend investing in some actual cuff links — they're far easier to use than the knots that come with the shirt.)  The shirt was $89.50; now on sale for $35.   Non-Iron Fitted Bold Textured Stripe French Cuff Dress Shirt

If you've recently seen a great work piece you'd like to recommend to the readers, please e-mail [email protected] with "TPS" in the subject line. Unless you ask otherwise, we'll refer to you by your first initial.