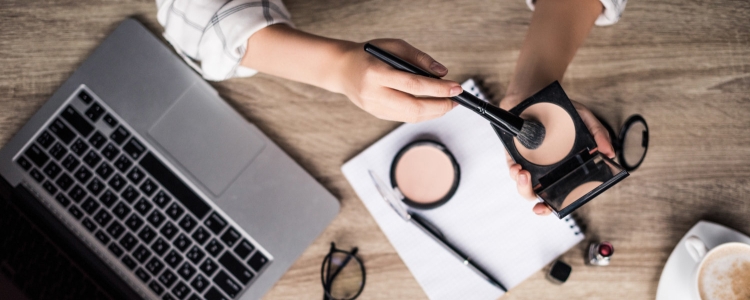 We haven't had a discussion on easy makeup to keep at your desk (or in your bag) in a while — what are your favorites to keep on hand? I would define "easy" as products that go with everything (and can even be added on top of existing makeup), and don't require a lot of brushes or additional products, e.g., eyelash glue.
These are some of my favorites — what are yours?
The Best Easy Makeup to Keep At Your Desk
I still really love Touche L'Éclat — it is more sheer than a lot of concealers, as well as having highlighting properties, so it's a great way to refresh your eyes before you head from desk to dinner, or even before a midday meeting.
Drugstore dupes: I've heard that this $6 e.l.f. concealer is a near perfect dupe (available at Amazon and ULTA)– I'm going to try it out.
We've been fans of the NARS The Multiple stick for a long time — and they now have a "limited edition" version of their core color, Orgasm. In more recent years they've come out with a liquid blush version of this — in my opinion it was a bit too sheer and runny, so I prefer the stick version, but that's me.
What's great about this is that not only is it a cheek color, but it's a soft, pretty pink that goes well on your eyes as well — it adds just a touch of buildable color. Nice.
Drugstore dupe: e.l.f. Monochromatic Multi Stick at Amazon and ULTA
I've said it before, but I love my Chubby Sticks from Clinique. They add a buildable wash of color on your lips or cheeks, are moisturizing, and are super easy to apply because so many are MLBB tints. I've never had a stick break on me like lipsticks sometimes do.
For my pale skin, I'm a big fan of Graped Up and Whole Lot of Honey (both MLBB for me); I also like Voluptuous Violet for a bit more of a dark mauve color. I also have Broadest Berry from their Intense line and have been pulling it out more and more.
The Broadest Berry is particularly easy to apply with "the French method" where you only put the lip color on the center of your lips and then blend to the outer corners with your fingers or a brush. Then, blot (and repeat if you want more color), and go. Also, SO interesting — I would describe it as a red, Clinique describes it as a violet, and Temptalia describes it as a "beige plum."
Buy it at: Nordstrom, Clinique, Macy's, Sephora, ULTA
Dupe: I haven't had the best of luck with the colors available in drugstore lines, so I'd recommend just waiting for one of the frequent sales on Clinique that Nordstrom and other department stores have. But Neutrogena and Burt's Bees both have products right now that are similar in theory.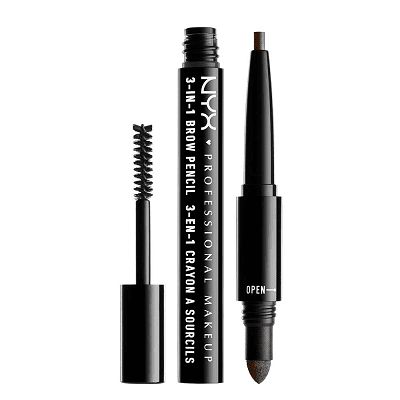 I didn't realize until my early 30s that if I was heading from desk to dinner, my brows often needed a refresh, also — you don't want to overdo it, but it does make a big difference.
For this purpose, I was originally going to suggest the Estee Lauder multi-brow tool — but this NYX one looks even better. It's got powder, pencil, and a moussey brow tint.
Where to Buy: Amazon, your local drugstore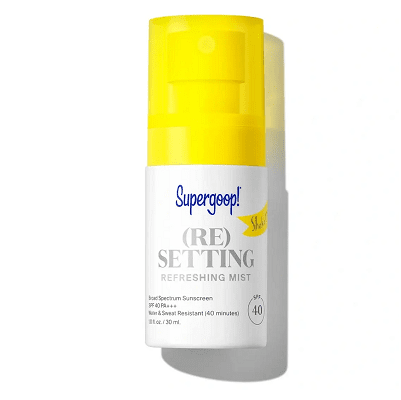 This (re)setting mist not only resets your makeup, but it also adds a refreshing mist of SPF 40.
Where to buy: Nordstrom, Sephora, ULTA, others
Drugstore dupes: The dupes are all almost as expensive as the original product (the original is $20, the dupes are $13-$18), so you may want to just stick with the original. If you're looking for another option, though, check out this Milani spray, this Pacifica spray at Target, or this $12 spray at ULTA. This $5 NYX spray doesn't include sunscreen, but it was an Allure beauty award winner and allegedly contains electrolytes to "replump" your skin.
BONUS MENTION:
I haven't tried this, but I've never seen anything like it — ULTA has an exclusive MAC product that is a "dry shampoo mascara refresher." I do feel like my lashes get clumpy after a few hours of wear — but I know from experience that adding more mascara on top of that is usually a disaster. INTERESTING.
Readers, which are your favorite easy makeup products to keep at your desk?
Stock photo via Deposit Photos / Y-Boychenko.