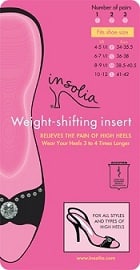 (I know: this doesn't quite qualify as a "beauty" item, but in my mind it makes sense to talk about it here…)
I've been a fan of the cushion-y, almost gel-like inserts that you put under the ball of your foot for years now — so I was intrigued when I was sent free samples of the Insolia "weight-shifting" insert, which is a hard piece of plastic that goes beneath your heel and below your arch.  "Keep trying them out," the product engineer urged — "they're a little like a contact lens for your foot."  (Which is true — it feels like there's something in your shoe at first, and then you get used to it and it feels like there's nothing there.)  After one wearing, I must say I was even more intrigued — I survived a night out with some of my highest heels! — and have continued to have good results.  I can't explain the science behind it, but I will definitely be giving these a try the next time I have to wear heels that are higher than my comfort zone.  You can get 3 pairs at Amazon for $19.97, or buy them direct from the Insolia website, where code corporette will give you a 15% discount through June 30, 2010.

Check out our Guide to Comfortable Heels for even more ideas! 
Please note: all products sent to Kat for review are subject to the Corporette Review Policy.